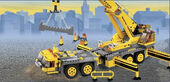 Custom in Progress!
This custom is not yet finished and is being modified by its creator, I love Brickpedia, and may undergo critical changes while this message remains in place.
Customs Article


This article describes a custom creation, custom theme, or other fan material, made by a Brickipedia contributor. It has never been, is not, and will not be officially released.
Lego Marvel Super Heroes Infinity Saga
LEGO Theme:
Genre:

Action,Adventure

Mode(s):

Option 1: Single Player,Option 2: multiplayer

Rating:

E10+

Platforms:

XBOX(All),Nintendo(All) Playstation(All)
Plot
Play through All the MCU Films and TV shows in this game. It is based off of the films Iron Man, The Incredible Hulk, Iron Man 2, Thor, Captain America: The First Avenger, The Avengers, Iron Man 3, Thor: The Dark World, Captain America: The Winter Soldier, Guardians of the Galaxy, Avengers: Age of Ultron, Ant-Man, Captain America: Civil War, Doctor Strange, Guardians of the Galaxy Vol. 2, Spider-Man: Homecoming, Thor: Ragnarok, Black Panther, Avengers: Infinity War, Ant-Man and the Wasp, Captain Marvel, Avengers: Endgame, Spider-Man: Far From Home and Black Widow. It also includes the following DLC Packs Wandavision, Falcon and the Winter Soldier,Loki,What If? and Shang-Chi
Gameplay
Hub Areas:
New York City
Asgard
Sokovia
Wakanda
Queens
San Francisco
Brooklyn
Note
Please don't edit this page before asking me. I know this might take a while to complete because this is kinda hard for me but I put a lot of hard work and effort into this custom , but you are more than welcome to look at it. Thank you for your understanding. - I love brickpedia.
Characters
Name
Weapons
Abilities
Picture
Ant-Man

Shoot Pym Particles Disc
Shrink
Turn into Giant
Punch
Destroy Objects
Transform into Scott Lang

Ant-Man(Giant-Man)

Shoot Pym Particles Disc
Shrink
Turn into Giant
Punch
Destroy Objects
Transform into Scott Lang

Ant-Man (Time Heist)
Gallery