Customs Article


This article describes a custom creation, custom theme, or other fan material, made by a Brickipedia contributor. It has never been, is not, and will not be officially released.
LEGO Pirates: The Lost Legacy
LEGO Theme:
Creator(s):
Genre:

Action, Adventure

Mode(s):

Single Player, Multiplayer

Platform(s):

PC, Android

'
LEGO Pirates: The Lost Legacy is a custom video game of Pirates theme. It was created by Joža Bezeg.
Story on box
Ahoy, me maties!
After several decades of piracy, Captain Redbeard finaly got caught by Imperial soldiers and Imperial Guards - together. All of his ships were captured, his pirates retired just to stay free and Governor Broadside and Admiral Woodhouse are now friends. Now Redbeard has no choice, but to escape by himself (with a bit of your help). After that, he must get back his ships, find all of the crew and the most importaint thing - find the treasure, that his ancestors burried on GOLDEN LAVA island. Only you can help him! You're the LEGO maniac!
Game modes
You, as a player, progress trought the levels following a story. Before beating level 10, there is only a SINGLEPLAYER mode.If you choose singleplayer mode, you click NEW GAME and you will be starting over. Later you can choose PLAY button and you will be able to play levels, that you played yet. After beating level 10, you can choose MULTIPLAYER button. If you choose multiplayer mode, you have to type IP of a world and you're in. If you just want to visit random server, you have to type -RANDOM- and you will be in a random server (unless it is a private one).
Game look
The game look is based on the classic pirates line from 1989, to 1996. If you look closely, you can recognize some of the old sets (e. g. 6277 Imperial trading post, 6276 Eldorado fortress, etc.) There are 6 groups of locations: Imperial guards' buildings, Imperial soldiers' buildings, pirates' island buildings, armada buildings and Islanders' buildings.
Game teams: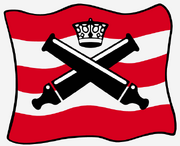 Game Characters
Captain Redbeard's Crew
Renegade Runner's crew
Islanders
Imperial soldiers