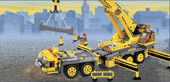 Custom in Progress!
This custom is not yet finished and is being modified by its creator, Omega X.23, and may undergo critical changes while this message remains in place.
Customs Article


This article describes a custom creation, custom theme, or other fan material, made by a Brickipedia contributor. It has never been, is not, and will not be officially released.

Mini Vampyre Hearse is a custom Custom: Monster Fighters set created by Omega X.23.
Description
It includes a mini Vampyre Hearse that is based on the Vampyre Hearse that was released by Lego for the Monster Fighters theme, only smaller. It includes an exclusive Custom: Lord Vesper Vampyre minifigure with a glow-in-the-dark head and golden sword, staff and a coffin. The roof of the hearse, like the real thing, can lift up via two knobs on the side.
Minifigure
Gallery
Community content is available under
CC-BY-SA
unless otherwise noted.