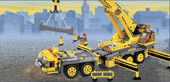 Custom in Progress!
This custom is not yet finished and is being modified by its creator, Dan9122, and may undergo critical changes while this message remains in place.
The Robot Chronicles: The Adventure Continues
Theme:
Released:

2016
The Robot Chronicles: The Adventure Continues is an online game.
Description
The Robot Chronicles: The Adventure Continues can be accessed through city.lego.com, ultraagents.lego.com, and speedchampions.lego.com. The first mission varies depending on the site. If on city.lego.com, the first mission is for City; if on speedchampions.lego.com, then it is a Speed Champions mission; and if on ultraagents.lego.com, then it is an Ultra Agents mission. The object of the game is to unlock all vehicles by completing all missions.
There are two modes, Mission and Freestyle. You have a certain time limit to complete the mission, and if you don't complete within the time limit, you will not be able to complete the mission at all. However, if you do complete the mission in time, you can upgrade and get a new mission, thus getting closer to 100% completion. Once 100% completion is attained, then you can play as the AntiRobot.
Characters
Racer Francesco Frizullin
New Features
New and improved LEGO City map similar to the original TRC map but different
Redesigned version of LEGO City derived from the original
Achievements derived from TRC's MLN rewards but different
April Fools area called the Palto Alto Forest; Steve Jobs in his minifigure potrait can be hidden there
Community content is available under
CC-BY-SA
unless otherwise noted.