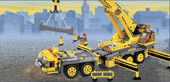 Custom in Progress!
This custom is not yet finished and is being modified by its creator, CM4S, and may undergo critical changes while this message remains in place.
Customs Article


This article describes a custom creation, custom theme, or other fan material, made by a Brickipedia contributor. It has never been, is not, and will not be officially released.
Here you go, Knight. Hope you enjoy! Please note that the image is NOT final.
Description
Oh no! The lead Monster Fighter, Dr. Rodney Rathebone, has been kidnapped by the evil witches and taken to their tower while trying to take the moonstone! It's up to you and Frank Rock to help save Dr. Rodney in Frank's car [NOT YET IMAGED] Will the Witches destroy Rodney and use the Moon Stone's power? Can you save Dr. Rodney? You decide! Includes 4 minifigures: Dr. Rodney Rathebone, Frank Rock, and two Witches.
Notes
The inside of the Witch Tower contains stairs, and a spell room with a potion shelf with cauldron!
Shoot flick-fire missiles from Frank's car! [NOT YET IMAGED]
You can push the skeleton cage off of the tower!
Create spells in the spell room!
Spider on the side and skeleton cage glow in the dark!
Esitmated Retail Price: $34.99
Gallery
Community content is available under
CC-BY-SA
unless otherwise noted.