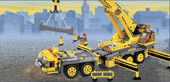 Custom in Progress!
This custom is not yet finished and is being modified by its creator, lego721, and may undergo critical changes while this message remains in place.

The Ultimate Lego Star Wars Project or ULSWP is a new Wiki project created on 1/8/14 by Lego721.
The Big IdeaEdit
This project is a huge WORK IN PROGRESS. It will take a while to complete. It focuses on Minifigures, not sets.The ULSWP was created for multiple purposes. First and foremost it was created to create a guideline for Lego Star Wars Minifigure Collectors. It focuses on the 3rd generation of Star Wars minifigures which have a flesh tone and pupils in their eyes. 1st and 2nd generation minifigs will not be involved in this project. Sorry for inconvenience. The main idea of this project is to create a guideline for collectors that expands from the films to the Clone Wars to the Expanded Universe. It will include minifigures that Lego has officially released and some customs. However, these minifigures will all exist in the real Star Wars Universe and will be as detailed as possible. I hope that these pages will inspire you to build custom minifigures and expand your minifgure collection. So, please comment and tell me what you think.
SubthemesEdit
The Old Republic
The Phantom Menace
Attack of the Clones
Star Wars: The Clone Wars
A New Hope
Return of the Jedi
Expanded Universe