This article needs to be built up.
This article lacks substantial content. You can help Brickipedia by "adding on some bricks."
In other words, it needs to be expanded. After you expand the article, please remove the "Expand" template. Further information might be found on the talk page.
The CyberKing is a non-playable antagonist in LEGO Dimensions from the Doctor Who franchise. It is a boss in the story level "A Dalektable Adventure".
Background
A CyberKing was a Dreadnought-class ship whose pilot was integrated into it, making it the CyberKing. It was a huge bipedal robot operated by a living controller. These ships were used to front a Cyberman invasion by crippling whole cities and upgrading their populations en masse. They were the largest, if not the most powerful, weapons utilised by the Cybermen in battle.
This particular CyberKing was created for the game. The CyberKing that appeared in the show also appears as an Easter Egg. The game clarifies it as Mercy Hartigan as she was the Cyber Leader of that CyberKing.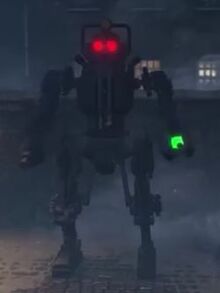 Video Game Appearances
Community content is available under
CC-BY-SA
unless otherwise noted.