Dewback
Theme:
Species:

Dewback

Variations:

Original
2014 re-design

Accessories:

Saddle
Reins

Years:

A Dewback is an animal from the Classic Star Wars theme which could be trained and ridden on, they were commonly found in the Dune Seas of the planet Tatooine. Imperial Sandtroopers on this planet were trained to ride Dewbacks for scouting and mounted combat.
Background
Dewbacks were omnivorous animals, originating on Tatooine. They were popularly used by Imperial soldiers for travel, scouting and battle. They were about 2 or 3 meters long.
Appearances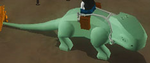 Video Game Appearances
TV Appearances
Gallery
Community content is available under
CC-BY-SA
unless otherwise noted.