"A massive horde of mutated monsters? Ha! Just another day at the Hero Factory!"
―Bulk
"They just keep coming!"
―IFB Bulk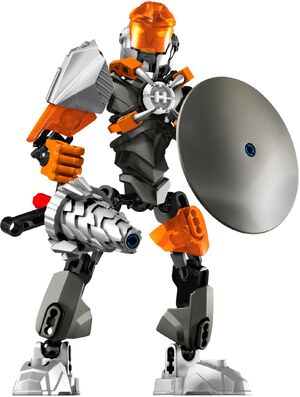 Dunkan Bulk is a Hero Factory character who is the "muscle" of Alpha Team. He was present on the Savage Planet, Breakout missions, Brain Attack and Invasion from Below missions.
Bio

This is a description taken from LEGO.com. Do not modify it.
---
Bulk is the very obvious "no-brainer" choice for hunting down Core Hunter. You could search the entire galaxy in an effort to find a Hero with more muscle and dedication than Bulk, but it would be a waste of time. Bulk is like a bull just waiting for a chance to charge at something. Anything. 100% raw strength, 100% instinct, 0% reason, 200% Hero. (Trust us on this one. It does add up to 200%.)
IFB Bio

This is a description taken from HeroFactory.LEGO.com. Do not modify it.
---
Bulk has been said to be 100% raw strength and 200% Hero. He is incredibly strong but he can be a little clumsy at times, and he always mixes up his idioms, saying stuff like "If you can't join them, beat them", "let's kill two stones with one bird" and "it costs an arm and a brick".
Movie Quotes: "They just keep comin'!"
"With my drills? Sure! I was just standin' around gettin' rusty!"
Strengths: Strong
Sturdy
Stable
Weakness: Clumsy and not always the sharpest tool in the shed
Bulk may refer to
Gallery
Community content is available under
CC-BY-SA
unless otherwise noted.