Line 10:
Line 10:
 

*When this happens, Let the page load. If that does not work, Edit and copy and paste the page onto something else. --{{User:Crazed Penguin/spook}} 05:09, January 9, 2012 (UTC)

 

*When this happens, Let the page load. If that does not work, Edit and copy and paste the page onto something else. --{{User:Crazed Penguin/spook}} 05:09, January 9, 2012 (UTC)

 

*:Yeah, I'm getting a glitch too only on this page. [[:File:Anakin-Skywalker-Safari-Screenshot.png|Here is the screenshot.]] :/ {{User:Zaersk/sigcodes}} 05:46, January 9, 2012 (UTC)

 

*:Yeah, I'm getting a glitch too only on this page. [[:File:Anakin-Skywalker-Safari-Screenshot.png|Here is the screenshot.]] :/ {{User:Zaersk/sigcodes}} 05:46, January 9, 2012 (UTC)

 
+

*::What I find is that aftyer a page has reached a certain length it does that. It happened to my talkpage, Cligra's, and NBP's. So I think it is something with Wikia and not so much browsers. {{User:Mr. Minifigure/sig}} 13:35, January 9, 2012 (UTC)
---
Revision as of 13:35, 9 January 2012
Forums
- Anakin Skywalker page broken?

Basically- is anyone else having problems like this (below) when they try to view the Anakin Skywalker page? I have no idea what's wrong with it- I've looked at the page's code, I've looked at the code for the transcluded pages, and I can't see the problem.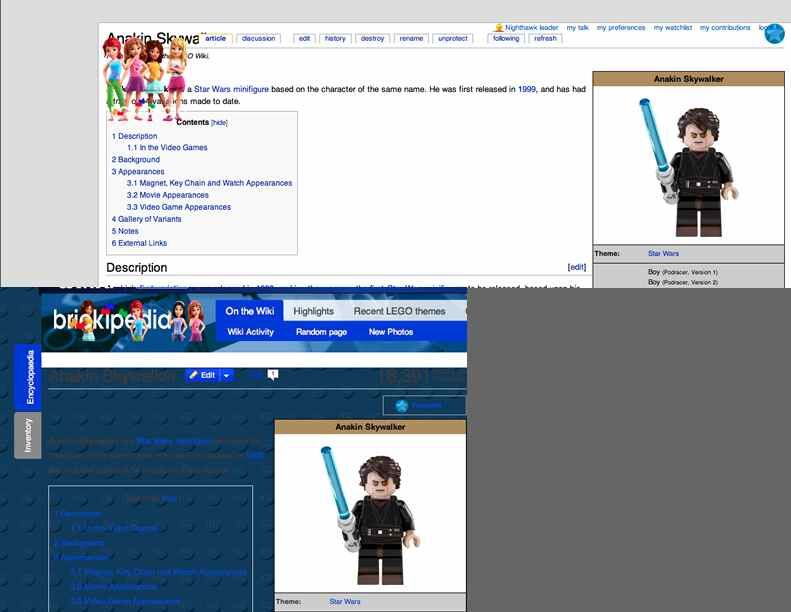 I don't know about the Wikia skin, but the Monobook appearance usually comes about due to unclosed tags, etc. Any help/feeedback as to whether you're having a problem would be greatly appreciated. Thanks, NightblazeSaber 05:03, January 9, 2012 (UTC)
When this happens, Let the page load. If that does not work, Edit and copy and paste the page onto something else. --Czech 05:09, January 9, 2012 (UTC)

Yeah, I'm getting a glitch too only on this page. Here is the screenshot. :/  

Zaersk

  

Talk

  

Contribs

  (MOC) (Blog) 05:46, January 9, 2012 (UTC)

What I find is that aftyer a page has reached a certain length it does that. It happened to my talkpage, Cligra's, and NBP's. So I think it is something with Wikia and not so much browsers.

klag

oer

name that user

13:35, January 9, 2012 (UTC)
Community content is available under
CC-BY-SA
unless otherwise noted.