Forums
- Anakin Skywalker page broken?

Basically- is anyone else having problems like this (below) when they try to view the Anakin Skywalker page? I have no idea what's wrong with it- I've looked at the page's code, I've looked at the code for the transcluded pages, and I can't see the problem.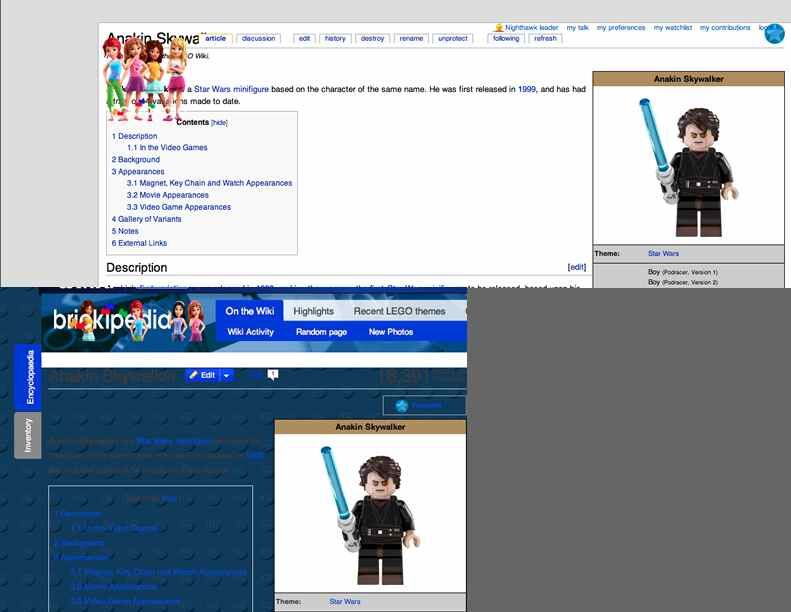 I don't know about the Wikia skin, but the Monobook appearance usually comes about due to unclosed tags, etc. Any help/feeedback as to whether you're having a problem would be greatly appreciated. Thanks, NightblazeSaber 05:03, January 9, 2012 (UTC)
When this happens, Let the page load. If that does not work, Edit and copy and paste the page onto something else. --Czech 05:09, January 9, 2012 (UTC)

Yeah, I'm getting a glitch too only on this page. Here is the screenshot. :/  

Zaersk

  

Talk

  

Contribs

  (MOC) (Blog) 05:46, January 9, 2012 (UTC)

What I find is that aftyer a page has reached a certain length it does that. It happened to my talkpage, Cligra's, and NBP's. So I think it is something with Wikia and not so much browsers.

klag

oer

name that user

13:35, January 9, 2012 (UTC)

I'll have a look. I removed the big background section to see what difference length made but it made none. I've tried clearing cache and nothing has changed there. (Mine looks like Zearsk's image, but in Firefox) - CJC 17:35, January 9, 2012 (UTC)
Community content is available under
CC-BY-SA
unless otherwise noted.