Hi I am looking for help in identifying this lego mini figure have im not sure if he is set up right with all the arms and legs but identifying the head and shirt would help alot. thanks —Unsigned comment by Colobato (talk • contribs).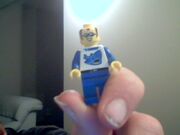 Hello. The minifigure you are identifying is the Blue Racer from the 2000 Race sets. He appeared in 1272 Blue Racer. Hope this info is useful, GG 360 11:38, July 14, 2010 (UTC)

He also appears in 1282 Blue Racer, 6617 Tough Truck Rally, 6618 Blue Racer and 6714 Speed Dragster if you were looking to match him to a set. Also, it's probably better to direct any other questions to Wikianswers LEGO, a site we are affiliated with where the users there are dedicated to answering questions such as this. NightblazeSaber 11:50, July 14, 2010 (UTC)

thanks for the help guys i have now been able to locate the instructions for this set on the internet and have successfully re-built the car , cheers
Community content is available under
CC-BY-SA
unless otherwise noted.