A Gamorrean Guard was a Gamorrean who served Jabba the Hutt in his Palace. The minifigure has two versions: the original version has grey arms, while the new version has sand green arms, and is armed with a newer-style vibro-ax.
Description
The Gammorean Guard has Sand Green legs, an Sand Green torso, and a Sand Green Headpiece that extends down to cover the body.
Background
Gamorreans serve as bodyguards within Jabba's Palace. They are extremely unintelligent but strong. They are equipped with vibro-axes.
Notes
In the video games and online movies, they appear with more printing.
In LEGO Star Wars video games, if the action button is held then the Gamorrean Guard would play his axe like a guitar. He also does this if a music box is built.
Gallery of Variants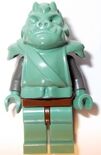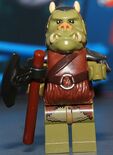 Original Design
2012 Redesign
Gallery
Appearances
Video game appearances