Great Vehicles
Theme:
Released:
Play the game:

Great Vehicles is an online game from LEGO.com.
Gameplay
While the game loads, there is a mini-game similar to those in Team Up and Forest Fire, where players control a motorcyclist and steer him from side to side, collecting yellow LEGO Bricks and avoiding rocks.
In the game, players control a certain vehicle and guide it through a course, using the spacebar to drive the vehicle forwards and using the left and right arrow keys to rotate the vehicle when it is in midair. The objective is to complete the course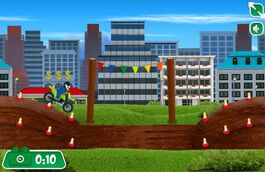 in the fastest time possible. The vehicles must drive off of ramps and vehicles, avoid obstacles like barricades that slow them down, and collect yellow LEGO bricks that lower the recorded time elapsed. Tires on the course can be bounced off of, and blue flags mark checkpoints. Once vehicles pass a blue flag, it turns green and the player is returned to that place if the vehicle lands upside down.
In addition to the twelve levels, there is a feature allowing players to create their own level.
Vehicles
There are six vehicles to unlock.
Notes
There is a glitch that occasionally allows a player to complete the course with a recorded elapsed time of zero seconds if the player's vehicle never lands upside-down. When this happens, the next level is locked until a time other than zero seconds is obtained again on that level. This could be because the game recognizes a time of zero seconds as the level having not yet been played.
Community content is available under
CC-BY-SA
unless otherwise noted.