This article is about the minifigure. For other uses of "Green Lantern", see Green Lantern (disambiguation).
"In brightest day, in blackest night, no evil shall escape my sight. Let those who worship evil's might, beware my power! Green Lantern's light!"
―Green Lantern in LEGO DC Comics Super Heroes: Justice League: Cosmic Clash
Green Lantern, also known as Hal Jordan, is a Super Heroes minifigure released in 2011. He first appeared in the Comic-Con Exclusive Green Lantern Giveaway to promote the release of DC Universe Super Heroes in 2012. In 2015 he made his first set appearance in the set 76025 Green Lantern vs. Sinestro.
He also appears as a playable character in the videogame LEGO Batman 2: DC Super Heroes, LEGO Batman 3: Beyond Gotham, and LEGO DC Super-Villains.
He made an appearances in The LEGO Movie, The LEGO Batman Movie and The LEGO Movie 2: The Second Part, voiced by Jonah Hill.
Description
Movie Variation
This minifigure is based on the Hal Jordan Green Lantern from the Green Lantern movie.
Green Lantern has dark brown short hair (Part 62810). His double-sided face is Light Nougat with a dark green mask on both sides with a smirk on one side and an angry expression on the other. Besides the green mask with white eyes, both sides also have medium nougat lines on the cheeks and chin to give his face the appearance more shape. Green Lantern's torso is green and printed on both sides. The first side has a muscular print achieved with black lines. The sides are dark green where they wouldn't interfere with the core muscles until close to the bottom where they slant inward creating lighter green triangles above the hips. In the center of his chest is the Green Lantern logo. Dark green lines slanting inward toward the center and then mirroring on the other side go down the torso. The back of the torso has the same slanting lines and mirrored dark green on the sides. There are also black lines to show shape on his back. Green Lantern's arms are dark green and end with green hands. His legs are also dark green in color and have no printing.
New 52 Variation
This version has a dark brown hairpiece which was previously used on Mutt Williams, Commissioner Gordon, and several others. His face has nougat lines for cheekbones and a green domino mask with dark green highlights. He has a grinning expression. He wears a tight green shirt with black detailing, his lantern symbol and black sleeves. He has white gloves, black hips and green legs which have black printed boots on them.
In the Video Games
In LEGO Batman 2: DC Super Heroes, Green Lantern's appearance is comic-book based. He has a similar torso, but it is smoother without the triangles, has black in place of dark green, and the circle behind the Green Lantern logo is white. His arms are black and his hands white.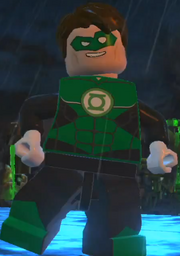 His legs are also black, but have green boots printed on. Green Lantern's head and hair are the same, and he has been seen with a determined expression and smirk. He carries a ring piece similar to the one in The Lord of the Rings, but it is colored green and has the green lantern logo on it.
He is seen using a construct that resembles one of the Boxer's gloves, is able to fly, and is the only known character who can build sparkly, green LEGO objects.
Green Lantern is one of the only four flying video game characters in The LEGO Movie Video Game. He is unlocked on level 14, but is not seen or mentioned in any other level. He is important in the Octan towers if the player decides to play as Lord Business with the mechanical legs. Green Lantern is unlocked for free in this video game.
Background
Comics
Hal Jordan was an average test pilot who was summoned to an alien craft that had crashed down on Earth. Rushing through the rubble, Jordan discovered Abin Sur, the Green Lantern of Sector 2814. Abin Sur tells Jordan that the ring has chosen him to become his successor and to become the new Green Lantern of Sector 2814. Jordan accepted and became one of the greatest Green Lanterns who ever lived.
In LEGO Batman 2
Green Lantern appears in LEGO Batman 2: DC Super Heroes and is able to fly and build objects from special green bricks. Green Lantern appears during the defense of Wayne Tech when the Joker is attacking in his Kryptonite Mech. He enters through the bottom with Batman, Robin, and Cyborg.
Hal Jordan is the only Green Lantern to appear in console versions of the game.
In The LEGO Movie
"Lantern... Green Lantern!"
―Green Lantern greeting Superman.
Green Lantern makes an appearance in the The LEGO Movie as a Master Builder. Throughout the film, there is a running gag that he thinks that Superman is his friend, but Superman finds him pesky and annoying. He is among the Master Builders that meet in Cloud Cuckoo Land. He also appears in the Think Tank after he was caught by Bad Cop and the Robo SWAT, next to Superman, angering him.
In LEGO Batman 3
Green Lantern is part of the Justice League and plays a huge part in this game. Green Lantern is the last captured lantern by Brainiac, who used the lantern's light to power his shrink ray to shrink Earth. After being sent to Oa, Green Lantern returns to help the Justice League obtain the greed, fear, and anger power batteries to resize Earth to its normal size.
In the LEGO Batman Movie
Green Lantern is one of the few voiced Justice League members, the others being Superman and Flash. He is present at the 57th Justice League anniversary parties, and when Batman questions the reason for not inviting him, he cooks up an excuse about a mix-up with emails, saying that he didn't get some of Superman's emails for years.
Gallery of Variants
Minifigure
Video Game
New 52 (LEGO Batman 2)
New 52 (LEGO Batman 3)
New 52 (LEGO DC Super-Villains)
Film
LEGO Movie 2
Systarian
LEGO.com Description
This is a description taken from LEGO.com. Please do not modify it. (visit this item's product page)
---
Due to his ability to overcome fear, test pilot Hal Jordan was the first human recruited to the intergalactic police force called the Green Lantern Corps. As a Green Lantern, Hal Jordan wields a power ring which is one of the mightiest weapons in the universe. Fueled by willpower, his ring, creates a protective shield around him, allows him to fly, and create hard-light energy constructs in the form of anything he imagines.
Agility: 8
Fighting: 8
Strength: 9
Intelligence: 7
Speed: 8
Notes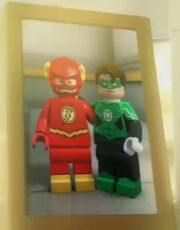 In LEGO DC Comics Super Heroes: Justice League: Attack of the Legion of Doom, he and Flash always fight and sometimes they still have to work together, and laugh at each other when one of them falls for Trickster's tricks, however in LEGO DC Comics Super Heroes: The Flash, it is revealed that they are best friends, because Flash has a picture of him and Green Lantern in his bedroom.
Appearances
Other Physical Appearances
Movie Appearances
Video Game Appearances
Book Appearances
Gallery
The LEGO Movie
The LEGO Batman Movie
See Also
References