World of Warcraft: Dragonflight - The Loop
Play Sound


HO 1:87 Vehicles was a subtheme of the System i Leg theme that was introduced in 1955 and discontinued in late 1970. All of the models are in 1:87 scale, and all trucks in 1:90 scale.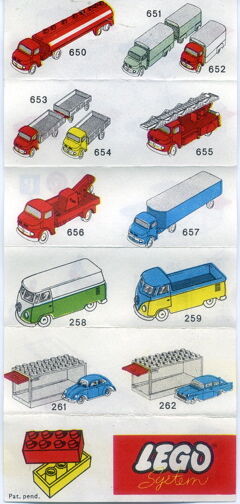 Characteristics
From 1955 to 1962, the plastic used in the making of these sets was Cellulose Acetate. After 1962, ABS (Acrylonitrile Butadiene Styrene) Plastic was used on all HO Models. From 1956 to 1961, the LEGO Cars were produced only as unboxed loose parts from LEGO retailers. The single exception to this pattern was the 261 VW Beetle + Showroom set. From 1962 to 1965, most of the sets were packaged in small clear plastic garages, except for some VW Beetles, and all VW Vans and VW Pickup Trucks, which were still sold without boxes.
Although these LEGO cars did not appear in any USA/Canada catalogs of the early 1960s, the sets 261 to 268 were available there. In some advertisements, the sets were all placed under the 472 number.
History
LEGO first made metal or plastic cars and trucks in 1953 to a scale of 1:43. These came in a variety of different sizes and styles. One was, for example a Ferguson Tractor, another was a VW Beetle. There were also many variations of Chevrolet trucks, and Esso vehicles. These 1:43 scale vehicles were not part of the LEGO "System of Play", but were produced by The LEGO Group. These vehicles were discontinued by 1958 in favor of the regular LEGO System of Play, known at that time as the Town Plan.