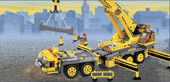 Work in Progress!
A work in progress is being carried out on this page by Hi Strike Laser, and may undergo critical changes while this message remains in place.
As a courtesy, please contact the user before making edits on this page.
If this template has been on the page for over one week, it may be removed.

The Highway Maintenance Worker was a Town minifigure. He only appears in one set: 6653 Highway Emergency Truck.