Jacob Pevsner is a Ninjago minifigure who appears in Ninjago: Masters of Spinjitzu.
History
Jacob is the Master of Sound and a competitor in the Tournament of Elements. He may be blind but he sees with sound. He wears clothes from the 60's and he has a black Afro. He is voiced by Paul Dobson.
In Ninja Roll, Jacob competes against Skylor. He is defeated and stripped of his power.
In Spy for a Spy, he tries to escape Chen's factory, but is caught by Clouse and was implied to be fed to his Anacondrai.
During the credits of The Greatest Fear of All, a voice over done by Jacob states he was alive and was literally feeding the snake. Jacob states that the snake didn't seem to want to eat, due to the fact it was killed by the Boulder Blaster. This shows that he was left behind on the island.
But in episode The Corridor of Elders, he was found back in Ninjago with the other Elemental Masters, making it unknown how he got back without information on elemental dragons.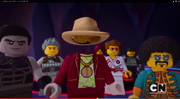 LEGO Dimensions
Jacob makes a cameo appearance in which he is seen battling-and being easily defeated by-Eyezor.
Notes
He is the descendant of the Elemental Master of Sound.
His name is possible referenced to Jacob Young, a Norwegian musician.
He is blind and "sees" by using his keytar to echolocate.
According to the official site his last name is Pevsner.
It is unknown how he escaped from Chen's island.
He is the only elemental master who did not appeared in The LEGO Ninjago Movie Video Game.
He reuses the Afro used on The Disco Dude from 8684 Minifigures Series 2
Variants
Minifigure Variants
TV Variants
Appearances
Television
Video Game Appearances
Gallery
Community content is available under
CC-BY-SA
unless otherwise noted.