Jessie is a main character and overall tritagonist of Toy Story franchise who appears in the Toy Story 2 and Toy Story 3 sets alongside various other characters. She is a toy cowgirl who belonged to several owners, now in the hands of Bonnie Anderson, who favors the cowgirl doll more than any of her other toys.
Description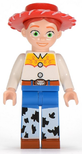 Jessie has appeared in three sets and has had two variations since she was introduced in 2010.
Her normal variation has appeared in two sets and was made from three pieces; part bb450 (head), part 973pb637c99 (torso), and part 970c99pb02 (legs).
Her dirt covered variation has appeared in one set and was made from three pieces.
Background
Jessie is a sarcastic toy cowgirl who is full of life and energy. She is a good and loyal friend to those who treat her well, and one who suffers from claustrophobia and abandonment issues. For several years, Jessie ached to be sent to a toy museum in Tokyo, Japan, where she knew she'd be loved by passing visitors, until she met Woody, who taught the cowgirl that there is more meant for a toy than a glass box. After being rescued by the cowboy, Jessie is accepted as one of Andy's new toys, alongside Bullseye, and lives several happy years with her new kid. When he grows up, Jessie and many of Andy's other toys are passed down to Bonnie Anderson, who now favors Jessie more than any of her other toys, becoming one of their leaders.
Appearances
Variants
Gallery
Sources