This disambiguation page lists articles associated with the same title.
If an internal link led you here, you may wish to change the link to point directly to the intended article.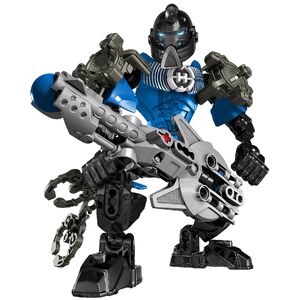 Jimi Stringer is a Hero Factory character introduced in 2010. He a member of Alpha Team and was present on the Savage Planet and Breakout missions.
Stringer may refer to
Bio

This is a description taken from HeroFactory.LEGO.com. Do not modify it.
---
Stringer is steady as a rock. There is nothing you can do to shake his core. He likes to assess a situation, decide what to do, and then act without ever looking back. He tends to get a little distracted at times, forget his gear in strange places, and lose track of time. He makes up for it by his ability to just take charge and get the job done. When things don't go as planned - and when do they ever? - you can always trust his ability to do what he has to do to get things under control. So don't panic if you don't hear from him for a while. With Stringer, no news is usually good news
Gallery
Community content is available under
CC-BY-SA
unless otherwise noted.