Arcane: League of Legends - The Loop
Play Sound
Kevin Hinkle is the former community manager for the Americas at the LEGO Group. Kevin Hinkle left the LEGO Group in December 2017 after 12 years with the company.
Biography
Kevin grew up in Austin, Texas as a LEGO fan, favoring themes such as Western, Space, and Insectoids. When he reached his teenage years, his LEGO collection was passed on to his younger siblings, and his interest in LEGO diminished. Years later, Kevin moved to Denver, Colorado to attend Rocky Mountain College of Art and Design to pursue a degree in animation. At that time, while searching for jobs, he found the local LEGO store, and as soon as a position opened up, he put in an application. Kevin worked at the Colorado Mills LEGO Store for four years moving up in the ranks to assistant store manager, and graduated with a bachelor's degree in two-dimensional animation.
During his time in Colorado, Kevin progressively got more involved in the LEGO community. Kevin had been approached by LEGO User Groups such as CoWLUG to join, to which he eventually did, and involved himself in club meetings and building projects with his LUG. After college, he was offered a position as LEGO store manager at the LEGO Store at Chandler Fashion Center in Arizona. He accepted the offer, putting aside his desire for an animation career, and moved to Arizona in 2009. Kevin joined AZLUG (now "Cactus Brick"), but nine months later LEGO announced they would be opening a LEGO Brand Retail store in Kevin's hometown of Austin, Texas. After speaking with his friends and his LEGO User Group, he packed up and moved back home to Austin, and soon after joined the local LEGO User Group: the Austin chapter of TexLUG.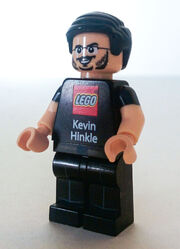 Come 2010, six months after the construction of the Austin LEGO Store, a new position opened up at LEGO. Steve Witt, the community relations coordinator for the LEGO Group at the time, had retired, and a replacement was needed. Kevin had been working in retail for 5 years at this point, and thus felt it was time to move on. When inquiring about the brand community position, Kevin spoke with Jim Foulds, who Kevin had known from CoWLUG. Jim offered the position to Kevin, though Kevin declined it as he didn't feel settled from his last move from Arizona to Texas. Four months later, Kevin checked to see if the community position was still available, to which he found it was, and began the application process. Kevin was hired as the North America Community Coordinator in August 2011 and moved to Enfield, Connecticut. Kevin wanted to continue to be a part of a LEGO User Group as well. NELUG was the closest match, though most meetings were held in Boston, Massachusetts, so Kevin worked with Jim to form LUGOCT. Kevin became a senior community coordinator at the LEGO Group in July 2013, and as of January 2015 is the community manager for all regions in the Americas.
Minifigure Business Card
Like most other LEGO Employees, Kevin Hinkle had his own Minifigure business card. The figure came in five variants and featured exclusive prints.
Gallery
Sources
External links