Arcane: League of Legends - The Loop
Play Sound

"Children mean everything to us. Children and their development. And this must pervade everything we do."
―Kjeld Kirk Kristiansen
Kjeld Kirk Kristiansen (born December 27, 1947) was the president and CEO of The LEGO Group between 1979 and 2004. He appeared as the narrator in "The LEGO Story".
Biography
Kjeld was born 27 December 1947 in Billund, Denmark. His father, Godtfred Kirk Christiansen worked with his grandfather, Ole Kirk Christiansen, in the family business: LEGO. As a child, he often inspired and tested new model concepts and their building instructions for their company. He also appeared on many of the company's packages and marketing materials. In 1979, he became president and CEO of the LEGO Group. Kjeld introduced themes, Minifigures, LEGO.com, Mindstorms and licensed properties such as Star Wars. In 2004, he stepped down as president and CEO to focus on his role as owner of the LEGO Group and Vice-Chairman of the Board, while maintaining his role as Chairman of the Board of KIRKBI A/S, LEGO Holding A/S and the LEGO Foundation.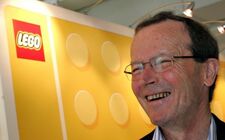 LEGO is privately held and is controlled by the Christiansen Family and their foundations. In 2007, Forbes Magazine listed him as the richest person in Denmark with a fortune of $3.3 billion. Kjeld and his wife, Camilla, still live in Denmark and have raised three children and now have two grandchildren. In 2008 Kjeild was submitted into the Toy Hall of Fame. He is the richest man in Denmark.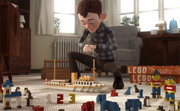 See also
External Links