LEGOLAND is a LEGO theme that ran from 1969 to 1978. The theme's sets varied, including Rocket Ships, Rodeos, and much more. The LEGOLAND Minifigures used in various LEGOLAND sets were different to the minifigures used today. Instead, the minifigures only had a cap, a head piece, a torso, and legs (That couldn't move).
Background
Here is a overview of what LEGOLAND looked like in the first years (from instructions of the 603 Vintage car):
These are the 1972 LEGOLAND sets sold in Switzerland (with prices in CHF):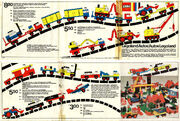 LEGOLAND Subthemes & set count
LEGOLAND (161)
Sets
Community content is available under
CC-BY-SA
unless otherwise noted.