Too many red bricks!
This article has an excess of red links in it.
Attention is requested to create new articles from these links. Please remove this message when finished.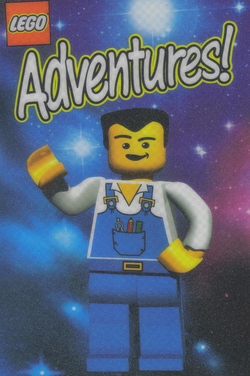 LEGO Adventures Magazine is a magazine released independently of LEGO Magazine by the LEGO Media division. The magazine, unlike LEGO Magazine, had a subscription fee and ran from 1999 to 2002. The Magazines were about 36 pages long. Each magazine had a contest offering 8 prizes (five medium-sized and three large) for which a user was eligible by answering a multiple choice question as well as a promotion giving them merchandise in exchange for sending in a picture of a LEGO creation. Some magazines came with free merchandise, such as stickers, posters, and mousepads. Each magazine contained two comics, each one followed by information about real life versions of things featured in the comics and building ideas. The issues, due to being a for-profit magazine, also had advertisements for non-LEGO products. They cost £1.50 each.
Mascot
The mascot of LEGO Adventures Magazine is Joe, a minifigure with a flat hairdo and a widow's peak who wears overalls.
Magazines
Community content is available under
CC-BY-SA
unless otherwise noted.