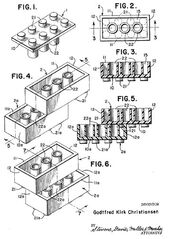 In 1961, LEGO was awarded its first US patent for "Toy Building Brick." The design calls for a hollow rectangular bricks with studs on top and a round hollow tube on the bottom.
The LEGO brick was patented not only in Denmark and the United States, but in many European countries and even some African countries.
The original Danish patent is DK92683C. Legetøjsbyggeelement. Filed January 28 1958 and granted January 29 1962. This was also amended by patent DK98227C, March 9 1964.
On September 15, 2010 the patent was removed in Europe.

Community content is available under
CC-BY-SA
unless otherwise noted.