LEGO Stunt Rally
Item №:

see Versions

LEGO Theme:
Price:

see Versions

Developer(s):

Intelligent Games
Graphic State (GBC)
Asylum Entertainment (PS1, canceled)

Publisher(s):
Date Released:
Genre:

Racing

Mode(s):

Single Player, Multiplayer

Rating:

E/3+

Platforms:

Windows PC, PlayStation (Unreleased), Game Boy Color

'

LEGO Stunt Rally is a video game released in 2000. It was developed by Intelligent Games (IG), who had also created LEGO Loco, and was published by LEGO Media for the PC and Game Boy Color. A PlayStation version was in development, but for unknown reasons, it was canceled before release. The game features a track builder which allows the player to create a track in Single Player or Multiplayer mode.
Development
The PlayStation version was initially being developed by Intelligent Games, the studio responsible for the PC version. The PlayStation development team at IG went through several staff changes, and progress on the PlayStation version started to lag behind its PC counterpart. Despite the project starting to catch up, LEGO rejected their prototype, and gave the job to Asylum Entertainment instead (who would later go on to develop Galidor: Defenders of the Outer Dimension).
A build of IG's version for PlayStation, dating to early June 2000, was found by one of its developers and posted on video game preservation website Gaming Alexandria on July 15, 2020. While incomplete, it is believed to be the latest build of this version of the game. The campaign is technically playable, but only the city tracks have unique designs, with all following tracks being a simple placeholder city track. Upon completing the final race with Mr. X, the game freezes on the loading screen. The track builder is somewhat functional, but like the rest of the game, has many bugs and placeholders. Most of the track pieces are similar to the final selection in the PC game, the biggest exception being a magnet trap similar to early concept art for the game.
The prototype of IG's PlayStation version also contains names for all the campaign tracks, even though most of the tracks hadn't been created/implemented yet:
Megahertz Practice Track
Sandy's Surf Turf Track
Dodgy Town Track
Rally Challenge
Radioactive City
Dune Buggy Track
Ghost Town Track
Pharaoh's Orders Track
Mexican Mountain Dash
Baron's Las Vegas Track
Jungle Beats Track
Cannibal Village Track
Sherweird Forest Track
Inca Temple Track
Army Tank Training Track
Ice-track Disco
Siberian Nightmare Track
Santa's Reindeer School
Abominable Snowman Trail
Glacias Ice Haven Track
Mr. X Final Level
Little has been seen of Asylum Entertainment's version, though one of its developers claims it was completed, but rejected by LEGO Media.
Characters
Heroes
Opponents
Bosses
Unlockables
You can unlock many items in the game including cars, paint jobs with different themes, and construction items to build your custom tracks.
Notes
The intro FMV of the game has a few minifig cameos seen in previous themes. I order of appearance Baron Von Barron can be seen dropping a container onto Lucky's monster truck, after which Johnny Thunder with Baron Von Barron's torso print can be seen saying "Do it boy!" to a crane operator, that being Slyboots dressed as Baron Von Barron but with two Black hands who answers "Alright, coming up!" and proceeds to move a loop the loop into position. During the last scene some crowd members can be seen with the torso and helmets of the Rock Raiders crew members as LEGO Media International, who made the intro FMV, had previously made these assets for a Rock Raiders comic book.
Axle of the Rock Raiders can be seen at the start of the podium FMVs and the whole Rock Raiders crew, except Chief, can be seen in the crowd of the outro FMV.
One of the City scenery items is an advertisement for LEGO Loco.
Despite the PlayStation version of this game being cancelled, it was later promoted on the back cover of the booklet for the PlayStation version of LEGO Island 2: The Brickster's Revenge, presumably meaning that it would have been released in mid 2001.
There is a DVD-ROM version of the game which contains some bonus material looking at the development of the game as well as a higher quality version of the intro FMV than the one seen at the start of the game. It is currently unknown how or where this version of the game was sold as it has only ever been seen in its own case which does not have a barcode. It has been speculated it was possibly released bundled with a DVD drive but so far no solid proof has been found.
Versions
| Set number | Console | Price |
| --- | --- | --- |
| 5712 | Windows PC | US $29.99 |
| 5713 | PlayStation | N/A |
| 5724 | Game Boy Color | US $29.99 |
Gallery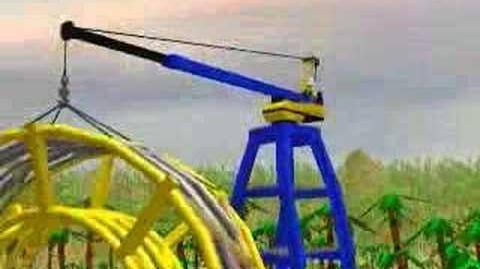 External links