Dead Cells Final DLC - The Loop
Play Sound

LEGO Systems, Inc. is the North America and Latin America division of the LEGO Group since 1973. Based in Enfield, Connecticut, since 1975. The site Included administration and marketing offices; Model Shop; former production facilities; and former distribution facilities (closed in April 2007 and moved to other worldwide locations).
"To increase our competitiveness in today's dynamic toy market, we are moving from a traditional, integrated business model to a partnership model that will increase our supply chain flexibility to deliver maximum reliability to our retail partners and ultimately, a more plentiful supply of LEGO products to consumers," said Soren Torp Laursen March 2007, president of LEGO Systems, Inc.
History
American distribution of LEGO products began in the USA in 1961 and Canada in 1962. When the giant Samsonite Corporation acquired the American and Canadian license to manufacture and distribute LEGO System products, and marketed sets under the name LEGO by Samsonite
Initially, Samsonite manufactured the basic bricks in their existing Stratford, Ontario factory and imported the specialty pieces, such as the trees and HO 1:87 Vehicles, from Billund. A licensing dispute ended the arrangement in the United States in 1972. The LEGO Group then took control of manufacture and distribution and LEGO Systems, Inc. was established in Brookfield, Connecticut, on June 11, 1973.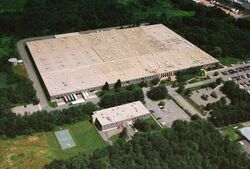 In the next two years LEGO Systems, Inc. invested heavily in advertising and promotion of its products and by 1975 a new management and distribution centre was built in Enfield, Connecticut. The new site at the time covered 143 acres, and was over the years expanded several times to 203 acres by 1991. The Enfield campus also houses the LEGO Creative Child Care Center for 122 children of employees and members of the local community.