Dead Cells Final DLC - The Loop
Play Sound
LEGO Worlds
Developer(s):
Publisher(s):

Warner Bros. Interactive Entertainment

Date Released:

March 7, 2017 (PS4, Xbox One)
October 2017 (Nintendo Switch)

Genre:

Adventure, Sandbox

Mode(s):

Single player / Online Multiplayer

Platforms:

Windows PC
PlayStation 4
Xbox One
Nintendo Switch

'

LEGO Worlds is a LEGO Sandbox Adventure game with an early access release on June 1, 2015. The game was officially released on March 7, 2017.
Summary
In a galaxy of procedural worlds made entirely from LEGO bricks, will you… EXPLORE environments filled with adventure, then alter them? DISCOVER secrets and treasures, then play with them? CREATE your own models, then make a world your own?
Notes
Downloadable Content
LEGO Agents Pack
Agents is a pack of characters, vehicles and weapons, based on the theme Agents. This pack includes Agent Chase and Agent Trace, Dr. Inferno and Dyna-Mite. Before Classic Space Pack was released, Agents pack was exclusive to PlayStation 4 version only. In Steam version, when Classic Space is bought, Agents pack is installed automatically along with Classic Space.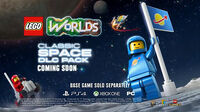 Classic Space
Classic Space is based on Classic Space. It includes all classic astronauts, Moon biomes and several Moon vehicles. Unlike Agents pack, Classic Space is a common DLC, however, when bought and installed, it installs Agents content too.
Gallery
Screenshots
Videos