Template:Videogameminifigure Template:Stud
Lama Su is a Star Wars minifigure that has appeared in LEGO Star Wars: The Complete Saga. Lama Su was the Prime Minister of Kamino who led the production of the clone army.
Notes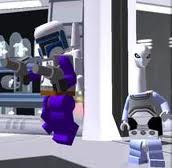 The program files of LEGO Star Wars: The Video Game for Windows PC state that Taun We was going to appear in the video game but was removed in the final product.
Appearences
Community content is available under
CC-BY-SA
unless otherwise noted.