This article or section is incomplete.
Please improve the article, or discuss the issue on the talk page.
This article needs to be built up.
This article lacks substantial content. You can help Brickipedia by "adding on some bricks."
In other words, it needs to be expanded. After you expand the article, please remove the "Expand" template. Further information might be found on the talk page.
This is a list of minor non-physical characters from the Ninjago: Masters of Spinjitzu TV series, The LEGO Ninjago Movie, comics, and video games.
Civilians
Balloon Kid
Balloon Kid is a minor character who is seen getting her balloon popped by a Narwhal Soldier.
Appearances
Bank Owner
The Bank Owner is a Ninjago Character who owns the bank in Ninjago City.
Description
The Bank Owner has the same hair piece as Lou and Obi-Wan Kenobi's Clone Wars variation. He has thick bushy eyebrows.
Background
When the ninja needed money to pay for their apartment, they all set out to find jobs. Cole got a job as a security guard for the Bank Owner's bank. When a robber was getting away with the money, Cole tackled him and got it back. The Bank Owner reached his hand out, and Cole thought he wanted to shake hands, but the Bank Owner really just wanted the money.
When Cole volunteered to do the double-shift for more pay, the banker came out and thanked him.
But when Cole fell asleep on the job, the serpentine generals Fangtom, Acidicus, and Skalidor robbed the bank clean. Then the Bank Owner figured out he was furious and fired Cole.
In the episode "The Day Ninjago Stood Still", the bank owner was seen locking himself in the vault to protect himself from the Stone Army. Later, when the citizens are fleeing to the NGTV tower to evacuate, he somehow gets out of the vault and goes to join them.
Appearances
Bob
Bob is an intern who worked for Milton Dyer during the legendary video game developer's illustrious career. However, after development on Prime Empire was shut down, Bob ended up living on Dyer Island for decades with no contact from his employer. Bob didn't display a great deal concern about this, undoubtedly due to being free to enjoy the luxuries of the island.
Appearances
Carridi
This minifigure has only appeared in video game(s)
Although this article is about an official minifigure, it never existed in physical form or appeared in any official LEGO sets.

Carridi is a character exclusive to the Ninjago online game Spinjitzu Smash. He's an old friend of Sensei Wu, and also has a daughter Satsue who was kidnapped by Skulkins, and later rescued by Cole. He wears a brown robe, and has grey hair and a grey moustache.
Cliff Gordon
"Fear? Fear isn't a word from where I come from!"
―as Fritz Donnegan
Cliff Gordon is a minor character in Ninjago: Masters of Spinjitzu. He was the actor for the famous fictional character, Fritz Donnegan. In "Skybound", it is revealed that he was Jay's real father, with "Hands of Time" revealing that his wife was the Elemental Master of Lightning. For reasons unknown Cliff chose not to care for his son, leaving him with Ed and Edna Walker with a key to his mansion. Cliff died not long before Jay wished to Nadakhan that he was rich, though Jay's wish was not what caused Cliff to die.[1] Cliff's wealth was inherited to Jay, though this was later undone by Jay's final wish.
Appearances
Coffee Bot
The Coffee Bot is a minor Ninjago: Masters of Spinjitzu character who has thus far appeared solely in the Wu's Teas series of shorts. A female robot resembling P.I.X.A.L. and Zane (following the latter being rebuilt), she is also the manager and sole evident employee of a coffee shop in Ninjago City that serves as the primary competition to Steeper Wisdom, Sensei Wu's tea shop.
Background
The Robot Manager was challenged by Kai to a Spinny Sign Off after she was stealing Steeper Wisdom's customers. However, Kai had accidentally burned their tea shop. She stopped the fire by fanning her sign, but had to pour tea on Master Wu when he caught on fire.
After serving a customer, Zane, disguised as a maintenance bot, visited the coffee shop to freeze her espresso machine. She ignored her lie detector and believed it when Zane said he grew a mustache due to an upgrade, allowing Zane to complete his mission. Robot Manager served another customer cold coffee; when she said she liked it, she told everyone about it, earning her shop recognition.
Wu invited the Robot Manager inside Steeper Wisdom. After giving her coffee beans and asking for friendship, to which she accepts, they found a stand selling free juice. They went out together with the Manager asking him if he thinks they have fresh pressed oil.
Construction Workers
"Let me see that. Oh, our mistake... see you tomorrow!"
―Construction Workers to Darreth
The Construction Workers appear in Season 2 and 3 of Ninjago: Masters of Spinjitzu.
Background
In Ninjaball Run, the workers tried to destroy "Grand Sensei Darreth's Mojo Dojo" because Darreth didn't pay his bills. Darreth then told them it wasn't to be destroyed until the next day, so the construction workers left. Directly afterwards, the ninjas went into the road race and won enough money to save the dojo.
In Blackout, workers found Cyrus Borg in the factory level of Borg Industries. They took of the cybernetic eye implanted by the Digital Overlord and gave him a wheel chair.
In Codename: Arcturus, a worker was seen running away from the Prototype X-1.
Appearances
Notes
They were unaware that they were working for Lord Garmadon under the name Darnagom Enterprises.
One of them has the same body as the Construction Worker.
The foreman's headgear has a same hard hat piece as Emmet, but in orange and has black hair.
Darkley's Boarding School Teachers

The Ninjago Teachers are teachers at Darkley's School for "Great Children". They were locked in an unknown room with the ninjas in the episode "Double Trouble".
Eve
Eve is a character from the Ninjago: Masters of Spinjitzu graphic novel Who is the Phantom Ninja? who is close friends with Seliel.
Eve's Father
Eve's Father is a character from the Ninjago: Masters of Spinjitzu graphic novel Who is the Phantom Ninja?; he is the father of Eve, who is the friend of Seliel.
Farmers
Farmers can be seen in various episodes.
Trivia
Gallery
Fuschia Ninja
Fuchsia Ninja is a Minifigure exclusive to The LEGO Ninjago Movie. He is voiced by David Burrows.
Background
The Fuchsia Ninja appears briefly in the film after Lloyd suggests that his Elemental Power might be "surprise"; Sensei Wu responds that the Fuchsia Ninja is the master of that element.
Notes
He appears in the The LEGO Ninjago Movie Video Game as a playable character by leveling up your stud counter and getting the parts to make him. His weapon of choice is a Nin-Jô and can throw it or use it as a melee weapon
Garmadon's mother
Garmadon's mother was the wife of the First Spinjitzu Master and the mother of Garmadon and Wu, as well as Misako's mother-in-law and Lloyd's grandmother.
Appearances
Hageman
Hageman was an adventurer and rival of Clutch Powers, and actually discovered and entered Aspheera's pyramid before him. However, Hageman was killed by a trap triggered by a cobweb, apparently because he hadn't read the part of Powers' book Booby-Traps, and How to Survive Them that covered such traps. His skeleton was later discovered by Powers and the Ninja, with Powers recognizing his remains. The Ninja were later able to escape from the pyramid using Hageman's gear.
Appearances
Notes
Hageman is named for the Hageman Brothers, who created the Ninjago series. His death is likely a nod to the departure of the Hageman brothers from the series following March of the Oni.
Hageman Brothers
The Hageman Brothers are television executives who work with Dareth in Ninjago: Masters of Spinjitzu.
Appearances
LEGO Ninjago: Masters of Spinjitzu Season 3: Rebooted
Season 4: The Tournament of Elements
Season 6:Skybound
Trivia
They are based on the real Dan and Kevin Hageman, writers for the Ninjago animated series.
Gallery
Jeffy
Jeffy is one of Grand Sensei Dareth's assistants at the Mojo Dojo. He carried in some wood boards along with Phil for Dareth to "chop".
Description
Jeffy's hair is black, and has black glasses and an excited look on his face. He wears a white robe with a black belt and has short white legs.
Appearances
Karate Kid
This minifigure has only appeared in video game(s)
Although this article is about an official minifigure, it never existed in physical form or appeared in any official LEGO sets.
Karate Kid is a minifigure that appeared in the Ninjago app LEGO Ninjago: Rise of the Snakes. He appears almost exactly like Kai, except he wears a red robe with a black fire symbol on the top right. He wears a black belt and has red legs. His face is smiling and has the exact same hair as Kai in the TV Show, only in a blond colour.
Notes
He is the only playable character out of the 78 champions that have never appeared before.
Lar

Lar is a Ninjago minifigure who appears in 2015 Ninjago books, but he did not appear in Ninjago: Masters of Spinjitzu. In the books he was the current Elemental Master of Water, but in the show this role was taken on by Nya
Notes
He would be the descendant of the Elemental Master of Water if he were canon to the series.
His hairpiece is similar to Lloyd Garmadon.
He and Jay are the only Elemental Masters with the same color.
He is defeated by Kai in the tournament of elements.
He did not appear in either Ninjago Tournament App and LEGO Ninjago: Shadow of Ronin since he is absent in the TV Show.
Tommy Andreason's non-canon story Way of the Departed mentioned Lar as an imposter Elemental Master.
League of Jay
The League of Jay is a group of players in Prime Empire who, for reasons unknown, all idolize Jay, the Ninja of Lightning. Multiple members of the group exist, all with an avatar resembling Jay in one of his older Gi styles. Among these are:
Beta Jay 137 (voiced by Andrew Francis): the deep-voiced apparent leader of the League, whose Avatar is based on Jay's Forbidden Spinjitzu robes.
Dee-Jay 81 (voiced by Paul Dobson): a member of the League whose Avatar is based on Jay's original Gi.
Jaybird 64 (voiced by Keely Metzger): a female League member whose Avatar sports Jay's Hunted Gi.
Jaywalkin 238 (voiced by Bill Newton): a member of the League whose Avatar is based on Jay's Tournament of Elements Gi.
The League of Jay work together with Scott and Jay against Unagami and his forces.
Lunch Lady
Lunch Lady is a Minifigure from the Ninjago: Masters of Spinjitzu animated series; she is employed at Kryptarium Prison.
Lunch Server
Lunch Server is a Minifigure from the Ninjago: Masters of Spinjitzu animated series employed at Kryptarium Prison.
Maggie the Cheerleader
Maggie the Cheerleader is a Minifigure exclusive to The LEGO Ninjago Movie. She is voiced by Retta.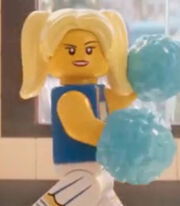 Mayor of Ninjago
The Mayor of Ninjago is a Ninjago minifigure who appears in The LEGO Ninjago Movie.
Gallery
Mr. Liu

Mr. Liu is a Ninjago character who appears in a cinematic part of The LEGO Ninjago Movie and as a Minifigure in The LEGO Ninjago Movie Video Game.
Background
Mr. Liu is an elderly shopkeeper who appears in the live-action part of the film to explain the story of Ninjago to a young boy.
In the beginning of the movie, in the cinematic part, a young boy ventures in an old relic shop, and Mr. Liu appears as its owner. When the boy seems interested in ninjas, shopkeeper tells him a story about Ninjago, which is shown as the whole movie. After that, the boy seems more interested, and Mr. Liu shows him his skills and tells, that one day he will start training a boy as the ninja.
In the post-credits scene of the film, Mr. Liu is shown as Jackie Chan catching tea cups from the movie staff.
Notes
He is played by Jackie Chan, who also voices Master Wu in the film.
Jackie Chan also appeared in several videos about the movie.
He has a minifigure version of himself in the video game, but not in the film, as he appears in the Live-Action segments.
Mr. Liu is the only character in The LEGO Ninjago Movie Video Game to have light nougat skin.
Gallery
Mrs. Laudita
Mrs. Laudita is a Ninjago minifigure who will appear in The LEGO Ninjago Movie. he is voiced by Laura Kightlinger. She is a school teacher in Ninjago City High School.
History
When the Garmadon alarm went off, everyone in the class immediately hid under their desks, except for Lloyd, Jay, Kai, Cole, Zane and Nya, who ask for a bathroom pass. She corrects the term "Can I have a bathroom pass?" with "May I" before telling them to go. She was presumably among the crowd when Lloyd revealed his identity as the Green Ninja.
Neido
Neido is the Ninja of Imagination, currently residing in the Ninjago Monastery Ruins on Crux Prime. He replaced Master Wu after the Ninjago Monastary update.
Background
When the Skeleton army, led by Lightning General Nuckal, attack the Ninjago Monastery, a chunk of the building is blasted into space with Master Wu aboard. The chunk crashes on the planet of Crux Prime, where Master Wu discovers skeletons mining the Maelstrom Ore from the planet's crust. To investigate the activities of his old enemies, he sends Neido, a Spinjitzu Ninja, to investigate.
When Neido arrives on the planet, he saves Brannan Landers from skeletons, displaying Spinjitzu to the Sentinel Knight. Wishing to pay homage to the mysterious rescuer, Brannan sends players to go to the Monastery Ruins, where Neido is trying to hold back repeated Skulkin attacks. Sensei Wu has left Neido with ten scrolls describing the history of Ninjago, as well as Neido's logs and accounts of his current adventures on Crux Prime. They were scattered during a recent skeleton attack, and Neido sends players to find all 10 and return them to the monastery.
Appearances
Night Watchman
Night Watchman is a Minifigure from the Ninjago: Masters of Spinjitzu animated series. He appears in Winds of Change as a guard at the Ninjago Museum of History, and is briefly possessed by Morro.
Appearances
LEGO Ninjago: Masters of Spinjitzu Season 5: Possession
Gallery
Ninjaball Run Announcers

The Ninjaball Run Announcers are the announcers of the Ninjaball Run Road Race.
Notes
Sources
LEGO Ninjago: Rise of the Snakes Episode 17: Ninjaball Run
Ninjaball Watchers
Ninjaball Run Watchers can be seen at the fourth episode of Season 3, Ninjaball Run.
Nobu

Nobu is a friend of Sensei Wu. She is seen on the second level of the Spinjitzu Smash! online game.
Appearances
Nobu (scribe)
Nobu is a scribe from the Cloud Kingdom in Ninjago: Masters of Spinjitzu in appears in the episodes Kingdom Come and Curseworld, Part II. In the former, Nobu appears as a scribe and overhears Fenwick talking to the Ninja, and is struck when Fenwick announces his intention to take them to the Master Writer-which happens to be Fenwick himself. He eventually discovers Fenwick's alliance with Morro and the Ghost Warriors, and quickly goes to the aid of the Ninja. Nobu later takes out Fenwick's destiny scroll and rewrites it so that Nimbus, the creature Fenwick intended to deal with the Ninja, goes after Fenwick instead. In the latter episode Nobu sees Lloyd Garmadon and Morro as they are battling across the realms, but an older scribe reminds him that they are not allowed to interfere.
Appearances
Phantom Ninja
You may be looking for Seliel, another Ninjago character briefly known as the Phantom Ninja.
The Phantom Ninja is a Ninjago character who appears in Cole: Ninja of Earth. After the Ninja failed to work as a team, Kai began an argument about Cole's leadership. Jay agreed that they should consider a different leader altogether, suggesting himself as a likely candidate. Cole, however, retorted with the fact that leadership would be too difficult for any of the three, leaving his comrades to think it over. Zane thought they should go fetch Cole, but Kai interrupted him to decide a new means of choosing the next leader: whoever performs the best in the next mission will be leader.
The next morning, the Ninja found that Cole was missing along with their equipment. The three quickly searched for the Earth Ninja, only to find him unconscious in a field of grass. With the splash of cold water, Cole awoke from his forced slumber, complaining of a headache and claiming that something wiped him out while he was guarding their campsite. While they debated about the cause, Kai found a note attached to a tree held up by a single shuriken. The note was signed by the Phantom Ninja, admitting to being the one who stole their possessions and warning that he would take something more precious if the Ninja did not surrender.
Cole then told his team a story about Sensei Wu attempting to recruit the Phantom Ninja, but changed his mind when the Ninja demanded gold in return for his services. The Phantom Ninja was not able to handle Sensei Wu's second thought, vowing to seek revenge. The Ninja turned to Cole for a plan to tackle the task, but Cole pointed out that he was no longer the leader, causing the three other Ninja to walk away in order to help themselves.
The Ninja agreed to a plan sorted out by Kai, though the trap they laid out failed to lure the Phantom Ninja. However, after they heard the shocked screams of Cole, the three Ninja went to investigate and found that the Earth Ninja was missing. A note rested in his place where his black ninja hood had been left behind, signed once more by the Phantom Ninja. It spoke of how he took Cole, warning that they will never see him again if they cannot find him by the next day.
They headed out through the forest in search of their missing friend. The three Ninja came across a broken bridge above a river, finding yet another note, which informed them that they must make it past the river without the use of Spinjitzu. Jay spotted some of his stolen gear nearby, creating a rocket pack and tying a rope around himself and his comrades. They flew across with success and crash-landed onto the other side of the river.
A single arrow shot past Zane with another note, though Kai ordered everyone to search for the Phantom Ninja instead as the arrow would indicate that he was close. In their chase, they became so focused they accidentally sprung traps that left them hanging upside-down by vines. The Phantom Ninja finally showed himself, laughing and taunting the group. He then gave them a clue of Cole's situation: Where is a man who is drowning, yet not wet? The Phantom Ninja vanished after his question, the Ninja quickly realizing that Cole must be in the quicksand nearby.
Zane, Jay, and Kai arrived at the pool of quicksand, spotting a black-garbed figure in the middle. Kai made a lasso out of some vines, though Cole made no effort to grab it and instead lay motionless. Zane and Kai turned to leave, Jay astonished with them as they left him behind. An axe was propelled at the ground where they were walking, the Phantom Ninja standing atop a branch above them. The Phantom Ninja questioned their actions, Kai telling the figure of the dummy that was placed in the quicksand, and Zane elaborating with details of his plan. Having been figured out, the Phantom Ninja pulled off his hood to reveal himself to be Cole.
Cole explained how he planned out the entire ordeal to teach the team a lesson about leadership, and when Kai asked him if he made up the Phantom Ninja, Cole admitted that the story was true.
The Earth Ninja informed his team that he returned their possessions to the campsite after they left, though when they headed back home, the campsite was completely trashed. At first the three Ninja assumed that Cole was lying about returning their luggage, but Cole was just as stunned as they were. The Phantom Ninja appeared before them, stating it was his doing before throwing shurikens at Jay. Cole demanded to know his reason for trashing their camp, though the Phantom Ninja replied that he heard his name was being used in vain. After Kai and the Phantom Ninja exchanged taunts, they both sprung into battle. He quickly paralyzed Kai with a sparrow strike, moving onto Zane next. The Phantom Ninja complimented Zane for his skill, though he took down the Ice Ninja with ease. Cole then sprung into action with Jay, using their Spinjitzu - however, the Phantom Ninja whirled around into a tornado of Spinjitzu and countered their attack. The Phantom Ninja disappeared afterward, Cole ordering his teammates to grab makeshift weapons using rocks and sticks. The gray Ninja reappeared moments later, Zane questioning how he performed such a technique. He explained that he simply emptied his mind of all thought, commenting that the technique should be easy for them.
Cole began to notice his comrades were becoming exhausted, coming up with a plan in an attempt to stop the endless battle. He ordered the Ninja to close in on their opponent and, once they were close enough, performed Spinjitzu which whipped the Phantom Ninja into the air. Once the gray Ninja fell, the Phantom Ninja began laughing before stating that he lost his wager. Confused, Cole asked him what he meant, the Phantom Ninja explaining that he and Sensei Wu participated in a bet to see if the team became too fractured to operate properly in a crisis.
Kai was baffled by his explanation, the Phantom Ninja elaborating further - the story that Sensei Wu told was made up. The Phantom Ninja was previously a bandit, and when Sensei Wu found him, they worked out a deal: Sensei Wu would not report him to the police if the Phantom Ninja only stole from other bandits and passed any information of major threats to Sensei Wu. Then he explained to them that he provided the team a common enemy when they needed it most, to bring them together.
Zane pointed out how after the entire ordeal, he was unsure of how he could just simply let him go back to his banditry. The Phantom Ninja said to the Ninja of Ice that it was just how things were, giving them the option of attempting to beat him again. Cole was forced to stop an infuriated Kai from attacking the gray Ninja, instead letting him off on the note of being ready for another attack if necessary. With that, the Phantom Ninja bowed, saying that he would leave Sensei Wu the Tea in the "usual spot" and informed them where he placed their gear before vanishing.
Phil

Phil is one of Grand Sensei Dareth's assistants at the Mojo Dojo. He carried in some wood boards along with Jeffy for Dareth to "chop".
Description
Phil's hair is light brown, and he has an excited look on his face. He wears a white robe with a black belt and has short white legs.
Appearances
Source
Punk Girl
Radio DJ
Roise
Roise is the mother of Lil' Nelson.
Background
After waking up, Roise tells her son to wake up, only to find that he's already awake. Once Nelson gets on his bike, Roise tells him to be careful and watches him leave.
Appearances
Satsue
Satsue is the daughter of Carridi.
School Bus Driver
Security Officer
Seliel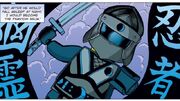 Seliel is a young girl whose father is the mayor of their hometown of Nom. In an effort to fight off the Nindroids who occupied her home, Seliel adopted the guise of the Phantom Ninja and fought against them.
The daughter of the mayor of Nom, Seliel witnessed the Ninja fighting the Skulkin, and inspired, sought to become a ninja herself. Setting to work, she began training in martial arts, and due to a lack of knowledge on Spinjitzu, created smoke pellets to blind her enemies as another means of gaining an advantage.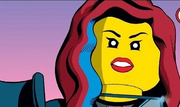 However, before she could finish her self-training and begin her journey, Nom was attacked by General Cryptor and the Nindroids as part of the Overlord's plan to distract the ninja from Project Arcturus. Seliel and her father were quickly captured, being held hostage to force the rest of the village into subservience creating fake Nindroid parts. Seliel and her father were imprisoned in the recently-built factor; However, that night, while her father slept, Seliel found a secret entrance out and snuck out. However, fearing what would happen to her father if he was recaptured, Seliel didn't tell him and would go back to her prison before the Nindroids could notice. With the exit, she made a plan, going out every night and donning her Phantom Ninja armor, fighting the Nindroids before sneaking back into their prison to elminate the possibility that she was the enigmatic vigilante in the Nindroids' minds. Her feats and clever use of the smoke pellets made her renowned amongst the captive villagers, who regarded her as a supernatural entity.
After sneaking out once more, Seliel disabled a pair of Nindroid Drones, attracting the attention of the Ninja, who had stumbled across the village and noticed the presence of the machines. Later, Seliel ambushed a truck carrying metal for the Nindroids' factory, destroying the engine and being confronted by the ninja. Seliel, keeping her identity secret, revealed she planned to scatter the iron before taking revenge on the driver for assisting the machines, regardless of whether or not he knew of what he was involved in. However, the ninja distracted her, giving the driver time to escape, and furious, warned them not to interfere before disappearing, heading back to her prison.
The next night, sneaking out under her disguise once more, she was confronted by Jay, who suspected her of secretly being a Nindroid trying to trick them; However, when his magnet failed to attract her, revealing she wasn't a machine, Seliel clashed with the ninja before Nya came to his aid, forcing Seliel to fly away. The next night, she snuck out of the prison once more, being spotted by Nya, unbeknownst to her.
Continuing on, she attacked the Nindroids after the ninja freed her fellow villagers from the factory, begrudgingly working with them in gratitude. However, despite their attempts, they were cornered by the machines, and Seliel disappeared in a cloud of smoke, leaving the ninja behind and returning to the prison.
The next night, she snuck out yet again only to be confronted by Cole, who had been told by Nya of what she had seen the night before. Cole unmasked her, and angered, Seliel attacked Cole, blaming him and the rest of the team before the predicament of her home, declaring she wasn't willing to just stand aside. Ultimately, however, Cole managed to subdue and calm her down, suggesting an alliance, and for the sake of her friends and father, Seliel agreed to his proposition.
The next night, she appeared before the Nindroids, claiming that the escaped villagers were in the woods and taunting them to challenge before her, and disappearing. Even as Cryptor and his army headed to the forest, where they fought the ninja, she rescued her father, stopping by the abandoned factory on the way and discovering the parts manufactured were useless fakes. After helping the ninja in the fight, Seliel gloated against Cryptor, revealing her rescued parent and identity to the Nindroid, forcing him to leave now that he had no leverage.
Reconciling with her new friends and father, Seliel revealed how she became the Phantom Ninja before warning the ninja of the fake parts, causing Cole to realize the entire ordeal had been nothing more than a mere distraction. Though invited to join the team, Seliel announced that she preferred fighting solo, but nevertheless offered to help them out in the future, disappearing with her father.
Later, while reconciling with her father on a hilltop, she managed to gain his approval to continue being the Phantom Ninja, and stared at the stars above, unknowingly looking at the comet Arcturus, where the ninja were at the very moment.
A very hot-headed and rebellious person, Seliel was one to always fight back against threats instead of running, taking pride in this as well. She had a great sense of justice, but could also be very vengeful, willingly harming an innocent driver who had no knowledge of assisting her enemies, and blaming the ninja for the trouble that fell on her villagers. Additionally, Seliel was a bit of a loner, preferring to fight solo and being reluctant to ally with the ninja; However, she cared deeply for her father and the villagers, doing anything she could to protect them and swallowing her pride to do so.
Seliel had a great amount of pride, unwilling to accept help under most circumstances unless she had no alternative, and was intelligent enough to invent her smoke pellets and create the Phantom Ninja armor. Likewise, she was very self-righteous and determined, refusing to give up in her fight against evil.
Description
As the Phantom Ninja, Seliel has an outfit similar to ZX robes, except with different shades of gray clothes. She has a tool belt with a buckle crescent, and a mask of the ninja ZX slightly modified. When not in full ninja garb she has long brown hair with a streak of blue in it.
Notes
Seliel appears-in her masked Phantom Ninja form-on one of the screens in the 70596 Samurai X Cave Chaos set.
The publication of The Phantom Ninja encouraged fans to submit input on whether they'd like to see Seliel appear in other media; outside of her image appearing in the Samurai X Cave Chaos set the graphic novel remains her only appearance in canon media. However, she is featured in Tommy Andreason's fan fiction story Way of the Departed, which takes place between Seasons 7 and 8 of Masters of Spinjitzu.
Seliel's Father
Seliel's Father is a character from the Ninjago: Masters of Spinjitzu graphic novel Who is the Phantom Ninja?; he is the father of Seliel and the mayor of their town. The pair were taken hostage by the Nindroids when their town was invaded, and Seliel secretly took up the persona of the Phantom Ninja in order to resist them without compromising her identity. After Sensei Wu's ninja arrived, they succeeded together in driving out the Nindroids, and Seliel's father gave her his blessing to continue her heroic efforts.
Spinjago Citizen
Spinjago Citizen is a Ninjago minifigure who appears in LEGO Ninjago: Shadow of Ronin video game.
Appearances
Notes
Talent Show Judges

The Talent Show Judges are judges in the Ninjago Talent Show and they only appear in episode 9, "The Royal Blacksmiths". There were three judges, but one of them was eaten by Pythor, because he wanted to have the snakes win so he could obtain the Constrictai Fang Blade hidden in the Blade Cup.
Notes
The first judge has the same hair as the Super Heroes Robin.
The second has the same hair as Agent Chase.
When Jay was turning into a snake during the episode "Once Bitten, Twice Shy," the first two judges are seen beating him up along with an angry mob.
When in the bus of "Rise of the Great Devourer," a talent show judge is seen eating a sandwich.
The third judge could have a beard, as Pythor was wearing a beard when impersonating him.
The first and second judge appear in "Day of the Great Devourer". The first was monitoring Ninjago City's subway system, while the second was a news reporter.
The first judge has the Zombie's shirt.
Gallery
Vlad Tutu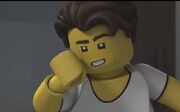 Vlad Tutu (voiced by Michael Adamthwaite) is a dance teacher who appears in the Prime Empire Digital Shorts episode "Let's Dance". A somewhat stereotypical dance instructor with an Eastern European accent, he praises Jay's skills while noting that Nya is a poor dance partner for him.
Villains
Bizarro Cole

Bizzaro Cole was a Ninja created by Lord Garmadon to destroy the real Ninja.
Background
After hearing Nya mentioning Darkley's Boarding School for Bad Boys, the Bizarro Ninja headed there in search of their good counterparts. Upon arrival, they stormed the school, attracting the attention of the students who have taken over. Brad led the children in attacking the Bizarro Ninja with smoke bombs and other prank gadgets, but the evil Ninja countered the assault. Luckily for the schoolboys, the Ninja soon arrived to occupy the Bizarro Ninja's attention. The dueling Ninja were evenly matched until Lloyd managed to convince the schoolboys to join him in battling the forces of evil. Wearing home-made gis, the children rushed into the fray, confusing the Bizarro Ninja long enough for the Ninja to gain the upper hand. As Gene predicted earlier, a single hard blow was enough to destroy the Bizarro Ninja, causing them to vanish in a puff of dust.
Gallery
Bizarro Jay
"By the way, did I mention that I kissed Nya?"
―Bizzaro Jay
Bizzaro Jay is a character in the Ninjago theme.
Background
He was a ninja created by Lord Garmadon to destroy the real ninja. Garmadon used his Mega Weapon on the ninja's old clothes to create the Bizzaro ninja. When the Bizzaro ninja attacked Sensei Wu, he was seen being hit by him. He posed as Jay and kissed Nya while he stole the Ultra Sonic Raider's keys. He was defeated by Jay when he said he kissed Nya.
Gallery
Bizzaro Kai

Bizzaro Kai was an evil ninja created by Lord Garmadon to destroy the real Ninja.
Background
They were given the task to find and destroy the Ninja only to be destroyed by them, Bizarro Kai being the last.
Gallery
Bizzaro Zane
"My early assessment tells me you will be destroyed."
―The alternate Zane to Zane
Bizarro Zane was a ninja created by Lord Garmadon to destroy the real Ninja, but he was destroyed in the process. He looks like Zane in his ZX outfit.
Gallery
Captain Oroku
Captain Oroku is a part of and second-in-command of the Snake Army. He appears as a boss in The LEGO Ninjago Movie Video Game.
Cardinsto
Cardinsto is a villain in the Ninjago book Stone Cold.
Notes
It is unknown if he may have been a former Master of Nature, as he has the power to control nature and bears a similar appearance to Bolobo, or he is merely using witchcraft.
Cruel Lord
The Cruel Lord (voiced by Michael Adamthwaite) is a villain who, with a force of guards, oppressed a farming community in Ninjago as seen in The Mask of Deception and School for Crooks. The lord wears a gold breastplate and darker gold pants, an Asian-style helmet, a white shirt, black gloves, and boots. His reign was overthrown when Nya appeared to confront him, having infiltrated his domain disguised as a water carrier.
Cruel Lord's guards
The Cruel Lord is served by a number of guards, two of whom appear in The Mask of Deception. These guards wear identical breastplates, shirts, swords, and gloves, but one wears a gray outfit while the other wears brown. The brown guard also carries a whip and wears a helmet like the Overlord's from 70728 Battle for Ninjago City, while the gray guard's helmet resembles that of Gimli. Two additional guards appear in School for Crooks; one resembles the gray guard but carries a spear, while the other is a hulking brute with a unique design.
He resembles Dogshank but wears a gold helmet with shoulder armor and leg guards, and a sleeveless black bodysuit with a red belt. His arms and what's visible of his face are blue, and he has yellow eyes. He and one of his comrades oppose Nya's attempts to reach their master, but are eventually tricked into letting her pass.
Fenwick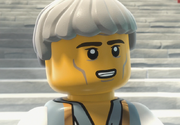 Fenwick is a minor antagonist in Ninjago: Masters of Spinjitzu who appeared in the episode "Kingdom Come." As the Master Writer of Cloud Kingdom, where destinies are written, he welcomed the Ninja to his home realm and showed them the workings of Cloud Kingdom. He also told them of the threat posed by The Preeminent, and claimed that Morro had defied destiny by escaping the Cursed Realm. However, he then tricked the Ninja by locking them in a room with the creature Nimbus to prevent them from interfering with Morro's obtaining the Sword of Sanctuary. Confident that his own "destiny [was] secure", he failed to account for the scribe Nobu, who rewrote Fenwick's destiny so that Nimbus would pursue him instead.
Gahrann the Dreamer
"Silly mortal! That is not a stick. This is a stick!"
―Gahrann to Sensei Wu
Gahrann the Dreamer is a villain in the Ninjago graphic novel, Stone Cold. He is the master of the dream world.
Long ago, Sensei Wu had defeated Gahrann the Dreamer and prisoned him in the Tower or Tears. However, Garmadon blew up the tower told him to defeat Sensei Wu. After battling Cardinsto, Sensei Wu took a nap. However, Gahrann appeared in Wu's dream as Flame. Wu discovered his identity and challenged him to a battle. Grahrann summoned a giant mace, trying to destroy Wu. Sensei Wu dodged the attack, but got stuck in a cloud. Right when Gahrann was about to take the final strike, Wu broke out. Wu kicked him off the cloud, but he respawned to the top. While Gahrann was flying, Sensei Wu got on top of him and slammed him down. However, Gahrann turned big and tossed Wu to another planet. There, he disguised himself as kid Garmadon and pretended that he had never been bit by The Great Devourer. He then said the guards captured the Ninja. When Sensei Wu saw this, he realized Gahrann's plan and tripped him. Gahrann took off his disguise and told Sensei Wu to wake up. He was never mentioned again.
Gallery
General Shen
General Shen is the leader of the Snake Army and a boss in The LEGO Ninjago Movie Video Game.
History
When Lord Garmadon and Lady Iron Dragon reach the top of a Snake Army tower, they find Shen waiting for them. He then taunts them by asking them if "Iron Dragon" and Garamadon are all he's up against. Lady Iron Dragon corrects him of her name, and she and Garmadon start fighting Shen, along with members of the Snake Army. Shen and his army are eventually defeated by the duo.
Trivia
General Shen wears a hood based on that worn by the "Evil Green Ninja" version of Lloyd.
Hibiki

Hibiki is a Ninjago minifigure who appears in LEGO Ninjago: Shadow of Ronin video game. He is a prisoner who resides in Kryptarium Prison and the paranoid, original owner of the Obsidian Glaive.
Background
Hibiki originally owned the Obsidian Glaive, but it was at one point stolen by Ronin.
Shortly after the Ninjas' memories were wiped by Ronin, they traveled to Kryptarium Prison, seeking Hibiki's help. When they arrived, they found the prison under attack by Ronin's samurai. Mistaking the Ninja for more of Ronin's goons, Hibiki fled through the prison until the Ninja fended off the Samurai. Once he was convinced that they were victims of the Obsidian Glaive, Hibiki provided them a map to the Inky Lemonberry in the Toxic Bogs, which they could use to make a Tea of Insight that would enable them to learn the location of the Obsidian Weapons.
Notes
His appearance is similar to the Crooks from LEGO City, but in gray with a red cap and printed arms.
in the game, he is voiced by Kerry Shale, who also voices Jay.
Khanjikhan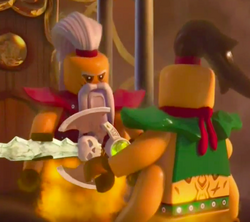 Khanjikhan is the father of Nadakhan and a minor character in Ninjago: Masters of Spinjitzu.
History
Khanjikhan was the king of Djinjago, but became estranged from his son due to Nadakhan's piratic pursuits in the realm of Ninjago. The two were later reunited when Nadakhan returned to his home in "Enkrypted" only to find it falling apart, with Khanjikhan as the only visible surviving inhabitant. Khanjikhan explained to his son that with the destruction of the Cursed Realm, Djinjago's sister realm, Djinjago had become unstable and would share the same fate. He then gave his son the Sword of Souls, encouraging him to avenge their crumbling home. He declined the offer to depart, citing Nadakhan's own mannerisms by saying "A good captain always goes down with the ship."
A statue of Khanjikhan appeared among the artifacts housed in Borg Tower in "The Mask of Deception."
Trivia
Given the reversal of most of the events of Skybound, it can be presumed that Khanjikhan perished in the destruction of Djinjago, with the Sword of Souls being destroyed in the process.
Kirchonn the Invincible
Kirchonn the Invincible is a character mentioned in the Ninjago graphic novel Stone Cold. He has six arms and is an enemy of Sensei Wu, who once defeated him and his army of six-armed warriors. While Kirchonn's army was imprisoned in the Mount of Shadows, Kirchonn himself was locked in a prison along with various other adversaries of Wu's, such as Cardinsto and the Time Ninja. They were later freed by Lord Garmadon in a bid to either eliminate Wu or leave him overconfident.
The One Who is Many
The One Who is Many is a villainous alien shapeshifter and the main antagonist of the Ninjago: Masters of Spinjitzu graphic novel Comet Crisis.
The exact origins of this being are unknown; what is known is that it previously lived on an inhabited planet where it used its abilities to turn the inhabitants against each other. Even on the occasions when it was discovered, it was able to use its abilities to escape, and the infighting from its actions eventually led to the planet's destruction. The One became marooned on a fragment of the planet, a large asteroid, where it spent an unspecified period of time languishing in boredom without other beings to manipulate, imitate, and/or deceive. Eventually The Four Golden Weapons ended up on the comet as a result of the events of Wrong Place, Wrong Time, and after the Nindroids escaped with them the One was left to torment their stranded Ninja pursuers.
The One Who is Many attempted to prevent the Ninja from repairing the Arcturus spacecraft and making their escape, impersonating Kai, Jay, Cole, and Nya in its efforts. It eventually abducted Jay and forced the others to follow it to a series of ruins, where it made known it's role in the cataclysm that had destroyed its previous home. Taking the forms of Lloyd, Wu (both normal and cyborg), and Cyrus Borg, it refused to allow the Ninja to leave. However, Zane was eventually able to defeat it by tricking it into attempting to copy his Nindroid form, which left it temporarily stunned and allowed the ninja to escape.
The One Who is Many possesses the ability to assume a variety of shapes and forms, and can also imitate voices given it's ability to deceive the Ninja. It appears to have some telepathic abilities, as it was able to take the forms of individuals known to the Ninja that it had not encountered, and could produce various items of clothing in its disguise. The One also appears to have some knowledge of engineering, as it was able to create a hovercraft for itself using parts from Project: Arcturus, as well as tactics. It could assume alien and human forms, including a featureless white Minifigure, and could transform itself into smoke as well. However, for some reason it was apparently unable to take the form of an inorganic Nindroid, and the attempt temporarily weakened it and allowed the Ninja to flee.
Quartet of Villains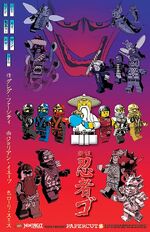 The Quartet of Villains is a group of four unnamed villains who appears in the Ninjago: Masters of Spinjitzu graphic novel Stone Cold. Each appeared to be either an inhuman creature or else a human wearing a costume, with its members resembling a vampire, a humanoid moth, and two lizard-like humanoids. They were previously imprisoned in the Tower of Tears by Sensei Wu before being released by Lord Garmadon, only to be defeated as Sensei Wu started going after his old foes rather than waiting for them to attack him.
Reflectra
Reflectra is a villainess and thief who debuted in the Reimagined short "Sweatin' to the Goldies."
Background
Reflectra broke into the Ninjago Museum of History to steal various pieces of artwork, only to be confronted by the Ninja Jay and Zane. Having studied the Ninja and their moves, Reflectra was able to counteract their attacks with a Spinjitzu-like fighting style in which her spinning form resembled a large crystal. The two Ninja realized they would have to be unpredictable to defeat her, and thus performed a song and dance routine from the recently premiered Clutch Powers "biopic". Completely baffled, Reflectra was overcome by the two Ninja, who proceeded to drag her away to deliver her to the Ninjago City Police.
Trivia
Ronin Samurai
Ronin Samurai is a Ninjago minifigure who appears in LEGO Ninjago: Shadow of Ronin video game. They are similar to Ronin Warrior, but they have grey hair.
Appearances
Ronin Warrior
Ronin Warrior is a Ninjago minifigure who appears in LEGO Ninjago: Shadow of Ronin video game.
Appearances
Sergeant Mazu
Sergeant Mazu is a skeleton warrior and enemy in The LEGO Ninjago Movie Video Game.
Shadow Army
The Shadow Army is a group of minions summoned by Clouse in the Ninjago: Masters of Spinjitzu graphic novel series The Dark Island Trilogy. He calls them forth using the power of dark matter in order to keep the ninja from disrupting his efforts to corrupt the Temple of Light alongside the Sky Pirates. When Sensei Wu employs the Golden Mech of The First Spinjitzu Master, Clouse transforms the Shadow Army into his own Shadow Mech to combat it, but is defeated.
Skeleton Trooper
The Skeleton Troopers are a group of villains who appear in The LEGO Ninjago Movie and in The LEGO Ninjago Movie Video Game.
Time Ninja

The Time Ninja is a minifigure that first appeared in the book Stone Cold.
The Time Ninja was once a unnamed thief who jumped in to the powerful Crono Crater hoping it would make him immortal. Instead he now lives one second ahead of everyone else. He once fought Sensei Wu to a standstill, but was banished in the Tower of Tears. Years later, Garmadon blew up the Tower of Tears and commanded him to defeat Sensei Wu. While, finding Sensei Wu, Wu made a trap in the desert that would take more than one second to escape from. He succeeded in capturing the Time Ninja, who hinted that he would fight Cardinsto next.
Notes
Though he is a non-canon character, the Time Ninja would later be followed by two other Time-controlling antagonists in the Ninjago: Masters of Spinjitzu animated series: Acronix and Krux, the Time Twins.
Creatures
Alien Bugs
Alien Bugs are insects that live on a comet in Ninjago space. They are insects that can eat through metal.
Alien bugs are nameless parasite bugs that live on a comet. They are lime green with red eyes. They use wings to fly. They were first discovered by the scientists who found a meteorite that fell off the same comet where The Mega Weapon exploded onto after being destroyed by time paradox in Wrong Place, Wrong Time.
When ninja went to the space to stop General Cryptor's army to get the Golden Weapons back, they crashed on the same comet and got attacked by the bugs who chased them, trying to eat their spacesuits. In the end, the bugs ate the Arcturus ship leaving ninja stranded on the comet with no way back. In The Titanium Ninja, ninja used their elemental powers to kill remaining bugs and rebuild the spaceship.
Gallery
Notes
They are the only known outer space life in Ninjago.
Ancient Creature
The Ancient Creature was a beast that appeared in the Ninjago: Masters of Spinjitzu graphic novel Stone Cold, in which it is awakened by Sensei Wu during his battle with Cardinsto. Due to being so ancient that it existed before "nature", it is immune to Cardinsto's elemental mastery of nature, and he is thus forced to beg Wu to rescue him from it. Wu does so in exchange for Cardinsto giving him information, and then reveals that the creature, while massive, can only stay awake for a minute at a time.
Notes
Barracudox
The Barracudox is a minifigure that appears in the Ninjago graphic novel Stone Cold.
History
As Master Wu attempted to escape the Insect Master's swarm of bees, he swam into the nearby river, only to be ambushed by the Barracudox lying in wait. Realizing he would face danger both above or underwater, Wu used Spinjitzu to create a massive water spout, simultaneously defeating the swarm and the Barracudox.
Notes
Beohernie
Beohernie (or Bernie) is a massive scarab beetle that lives in the Desert of Doom, first seen in "A Rocky Start". It was apparently once revered by inhabitants of the desert, but eventually turned on those worshipped it. It and two smaller specimens later attacked the Ninja as they were traveling through the desert. After it ate a vital component of the Land Bounty, Zane was forced to allow the creature to eat him in order to retrieve it. With some tricky maneuvering, the Ninja succeeded in escaping.
Appearances
Cragling
A Cragling is Ninjago Creature, very similar to Large Rock Monsters, such as Tremorox, Geolix, and Eruptorr from Power Miners. They also look similar to the Crystal King from Power Miners. They are made up of large rocks and boulders, have orange eyes, and usually gather in large groups. Sensei Wu and Lord Garmadon fought a large group of Craglings together. Although the Craglings are made of rock, they don't appear to be very strong considering that Sensei Wu destroyed one with a meteor hammer.
Appearances
Gallery
Desert Beast
The Desert Beast was a monstrous frog or lizard-like creature that appeared in Stone Cold, a Ninjago: Masters of Spinjitzu novel. Little is known about it except that it was among the threats challenged by Sensei Wu in his bid to keep Ninjago safe from harm.
Electro Cobrai
"Electro Cobrai. Although, they're extremely rare, they're extremely useful. "
―Pythor
Electro Cobrai are eel-like creatures that appear in the Lego Ninjago Masters of Spinjitzu episodes Blackout & The Curse of the Golden Master.
Description
Electro Cobrai are a blue eel-like aquatic creature that can power electronic devices. They were used by Pythor to reactivate the Overlord's Nindroids.
Gallery
Notes
Pythor is fond of using them to power things.
The Ninjago City Aquarium used to have some of these on display, until Pythor broke in and stole them.
Evil Bees
The Evil Bees were a force of malicious insects who were among the former inmates of the Tower of Tears, a prison thought to be impenetrable. After being freed by Lord Garmadon, they sought revenge on their old enemy Sensei Wu, and drove him into a lake filled with Barracudox, their former fellow prisoners. However, Wu was able to defeat the two forces and move on to confront other evils.
Ice Behemoth
The Ice Behemoth is a massive golem made out of animated chunks of dark ice and sent by the Ice Emperor to attack Lloyd and Akita on their way to the Ice Castle. The massive cyclops-like construct proved more than a match for Lloyd's Titan Mech, reforming no matter what damage was done to it. Ultimately, Lloyd managed to defeat it by luring it out onto a frozen lake, where its weight and that of an ice chunk Lloyd threw at it caused it to break through the ice and sink.
Ice Bird
The Ice Bird is a massive, Dragon-sized predator native to the Never-Realm. It resembles a gigantic owl or other bird of prey, and pursues all possible prey with abandon. One of the creatures-if there are indeed more than one-attacked Zane upon his arrival in the realm, and was only thwarted by his use of a Scroll of Forbidden Spinjitzu. Decades later, the same specimen-or else an identical one-attacked Lloyd when he came to the area. Lloyd managed to escape it, and then drove it off using his Titan Mech.
Ice Serpent
The Ice Serpent is an enemy from the Ninjago: Masters of Spinjitzu theme exclusive to the video game LEGO Ninjago: Shadow of Ronin. The Ninja faced the Ice Serpent after entering a sacred shrine to obtain the Obsidian Sai in order to thwart Ronin's plans. After Zane recovered the weapons, the Ice Serpent attacked them, smashing up through the floor and continuing to smash it as the Ninja fought it. Fortunately, they succeeded in defeating the creature, which disappeared, and made their escape.
Notes
The Ice Serpent has the same design as The Great Devourer, but with a different color scheme.
Sensei Wu battled against a similar serpent during the events of the graphic novel Stone Cold, but that one was not designed to be brick built in appearance; it is unknown if any relation between the two exists.
This is one of two Ninjago snakes who have appeared in Lego form in video games but not in physical sets; the other is the large Anacondrai Serpent that appeared in LEGO Dimensions.
Living Diamonds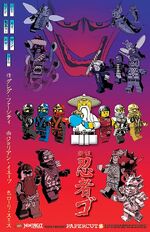 The Living Diamonds are a race of humanoid creatures that live in the depths of Ninjago according to the graphic novel Stone Cold, in which Sensei Wu descends to their realm. They are apparently hostile, as Wu sought them out in order to challenge and defeat them.
Living Statues
The Living Statues are enemies who appear in LEGO Ninjago: Shadow of Ronin in the Hiroshi's Labyrinth level.
Mask of Malice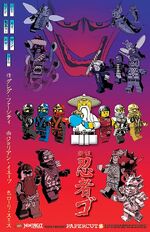 The Mask of Malice is a living mask that appeared in the Ninjago: Masters of Spinjitzu graphic novel Stone Cold as the last of a set of evils that Sensei Wu challenged after many of his former foes were freed from the Tower of Tears. However, rather than battling Wu, the Mask caused him to question how he had ended up on his crusade, and provided a vital clue as to who had freed all of his old enemies: Lord Garmadon.
Meowthra
Meowthra is a real-world cat who appears in The LEGO Ninjago Movie and thus appears as a giant monster in comparison to the Minifigure characters in the film. It is portrayed by cats Pearl and Ruby.
History
Meowthra is accidentally summoned to Ninjago City with the Ultimate Weapon by Lloyd. The citizens initially see her as an adorable creature, until she knocks down a building hit by the Ultimate Weapon's beacon. Garmadon, seeing an advantage, quickly takes the weapon from Lloyd and uses it to destroy the other Ninjas' mechs. Meowthra later lies down on the ground and bats at the remains of Nya's Water Strider Mech.
Meowthra continues to cause destruction in the city as Garmadon takes over the the Secret Ninja Force and they go off in search for something that can stop her.
When Garmadon returns from the expedition, he calls her over and throws the trinkets of the Weapon at her, which angers her and she eats him. Lloyd then attempts to tame her, which she enjoys and purrs continuously. Unknown to her, Lloyd is speaking to Garmadon (stuck inside her mouth), and Garmadon cries tears of fire. A tear splashes onto her tongue, which revolts her enough to spit him out. After a reconciliation, she is loved and petted by the citizens and becomes the city's mascot.
Notes
Due to it's nature as a real world element, Meowthra does not have a set form.
In The LEGO Ninjago Movie Video Game, she does not appear as a real cat in-game but she is also has a minifigure of her in cat costume which is available to build on character creator.
Mud Monster
A Mud Monster is a Ninjago creature, very similar to Rock Monsters from Power Miners, except that they are made out of Mud, not rock and crystals. Lord Garmadon ordered the Mud Monsters to attack Wu, but saved him by pulling him out of the Mud Monsters, only for the reason that Lloyd was in trouble. They appeared in the Episode: Once Bitten, Twice Shy.
Appearances
Gallery
Shadow Banshees
The Shadow Banshees were a group of mechanical-looking beasts with tentacles and rotating razor mouths that appeared in the Reimagined short "Gold Rush". After being unleashed on Ninjago City by unknown means, they quickly enveloped the city in darkness, which Kai and Nya attempted to thwart by delivering the Idol of Unity to Borg Tower. Despite their best efforts in the X-1 Ninja Charger, they were unable to reach Borg Tower before the horde of beasts. However, after putting together the broken halves of the idol, its power allowed them to combat the Shadow Banshees and reach the top of the tower, where they were able to place the idol in position. A wave of energy was thus released, destroying the banshees and their darkness and restoring Ninjago City to normal.
Appearances
Starteeth

Starteeth are Ninjago creatures. They are known for chewing holes through ships and sinking them.
Description
Starteeth resemble starfish, but with toothy mouths on the bottom for clamping onto and chewing through things. They are orange in colour. They can also chew through metal, as they did with the Leviathan's chain.
Appearances
Gallery
Nimbus
Nimbus is a creature introduced in the Ninjago: Masters of Spinjitzu episode Kingdom Come, where he is shown to be confined to a room in the Cloud Kingdom with various toys and other distractions. Fenwick later locked the Ninja in his dwelling in order to get them out of Morro's way so that the Ghost Warriors could claim the Sword of Sanctuary. The Ninja eventually escaped, but Nimbus was able to track them down later and attempted to recapture them. Fortunately, the young scribe Nobu was able to rewrite Fenwick's destiny, causing Nimbus to pursue the villain instead.
Appearances
Walloper
The Walloper is a type of animal featured in Ninjago: Masters of Spinjitzu, identified specifically as a Yak. Kai, Jay, Cole, and Zane ride several of these animals in Ghost Story as they make their way towards Stiix; one of the animals eats Kai's breakfast, and it (or another) follows the rest of the Wallopers despite Kai attempting to direct it elsewhere. One of the animals is later turned into a ghost by Wrayth. In Peak-a-Boo, during their ascent of the Wailing Alps, Jay spots another Walloper and mistakes it for a Goat; when Kai corrects him, he suggests that it might actually be a Cow.
Appearances
References