"You will yield. Oh, yes. Muuaahahahaha!!! Wait, is that candy?"
―Lloyd

Lloyd Montgomery Garmadon is a Ninjago character released in 2012. Lloyd is the son of Lord Garmadon and nephew to Sensei Wu. In The Episode "The Green Ninja" it is revealed that he is The Green Ninja.
Description
As Lloyd Garmadon
Lloyd has short black legs, and a cape shorter than those that are used on taller minifigures. Lloyd carries his father's golden thunder bolt from 2256 Lord Garmadon in 9443 Rattlecopter.

This is a description taken from LEGO.com. Do not modify it.
---
Only held by the Green Ninja, this massive weapon has 1 green spike at the bottom and top so watch out evil, the Green ninja really has a sharp golden weapon! Whatever this strikes explodes from its razor sharp green blades so Lloyd Garmadon can really fight the serpentine... and maybe one day defeat his own father, Lord Garmadon!
Background
A young, immature child obsessed with candy, Lloyd Garmadon is the son of Lord Garmadon who attends the Darkley's Boarding School for Bad Boys. [1] Lloyd accidentally stumbled upon the Hypnobrai and their General, Slithraa, while running away from the ninjas. Slithraa mistakenly uses his mind control on himself when he attempted to control Lloyd but hit a block of ice that reflected the hypnosis, allowing Lloyd to take over the Hypnobrai army for his childish acts in episode 1 "Rise Of The Snakes".
Slithraa's second in command, Skales, and the other members of the tribe were frustrated with their general forcing them to do childish deeds for Lloyd such as collecting all the candy in Jamonacai Village, and building a tree house. After a battle with the ninja, Skales and Slithraa had a battle in the "Slither Pit" in which Skales became general and banished Lloyd from their tribe, who left with a map that he had stolen from one of the Hypnobrai to find the other Serpentine tribes in episode 2 "Home".
He succeeds at this by unleashing the Fangpyre, who helped him with many things such as creating new vehicles and almost turning Ed and Edna into snakes in episode 3 "Snake Bit." After being betrayed by the secret allegiance between the Fangpyre and Hypnobrai tribes, Lloyd decided to unleash the Anacondrai, but only found the last surviving member Pythor P. Chumsworth, who became his "best friend", to betray him. He was then rescued by the ninjas. In episode four "Never Trust a Snake", he chooses to help his uncle Sensei Wu, after being read a book also titled "Never Trust a Snake".
The next day, Sensei Wu puts him up to prank the ninjas for today's lesson to show them the destructive power of rumors and that jumping to conclusion can only lead to trouble. Then Wu says that he misplaced his lesson book, but when Kai found the lesson book from Lloyd's pocket, he found out that he stole it. Then Lloyd says that it was a perfect plan until the ninjas had to mess him up, after which Cole closes the door in front of Lloyd in his room interrupting him. When Nya calls the ninjas to the HQ lobby, she talks about Pythor trying to get all five tribes united. This makes Lloyd feel guilty and he probably feels sad or worse in episode 5 "Can Of Worms." At the end he washes Zane's suit until it was no longer pink. Lloyd gives Cole a can of nuts to say sorry, but Cole says there is a bunch of toy snakes inside. Then he walks to the fridge and opens the fridge. When opened, a bunch of toy snakes pop out and everyone laughs, even Cole.
In Episode 6: The Snake King, he is taken into "babysitting" by Kai. When he drops Lloyd off at an arcade so he can look for Samurai X, he overhears Skales talking about a lost city. Buying a headress, he follows Skales to the city, where he watches Pythor P. Chumsworth unite the tribes by defeating the leaders of the tribes using Sensei Wu's sacred flute. When he sees Pythor win, he drops his maracas (which were making the snake sound that made the other serpentine believe he was one of them) and is taken captive by the Serpentine. When Samurai X came to free Lloyd, she was not able to escape, she was taken captive by the Serpentine, and forced to fight the ninjas which the Serpentine were sure would come to save Lloyd. Samurai X pretends to fight the ninjas in a plan to save Lloyd, but instead she saves the ninjas and gets the golden weapons to give to the ninjas. Lloyd is still held captive in episode 7 "Tick Tock" and Episode 8 "Once Bitten, Twice Shy". In "The Royal Blacksmiths" the Serpentine use him to get past some traps in a temple so he can be freed, but because the fang blade was gone he was still imprisoned.
In the episode All of Nothing, Lloyd is forced to try to save the ninja after they were captured getting the Fangblades. During this, he trips on the Green Ninja Suit, rolling right into the Serpentine. Before he can be captured however, Lord Garmadon shows up with the Skulkin Army.
In Rise of the Great Devourer, he pilots the Bounty after Pythor tries to take the Fangblades. This meant Lloyd was tied to the training equipment and his mouth taped shut by Pythor. Eventually, he is freed, and warns the ninja. But he is too late. Afterwards, he pilots the Bounty (and the ninja) to Ouroborus.
Blog on LEGO.com
Lloyd has a two part blog on LEGO.com.

This is a description taken from http://club.lego.com/en-US/Default.aspx. Do not modify it. (visit this item's product page)
---
Today was almost the best day of my life. I was eating breakfast when a package came from my grand-mommy and it was filled with bright, sticky candy! At my boarding school for bad boys it's REALLY, REALLY hard to get any candy or fun toys because they're always busy teaching us how to pull tricks and take over the world and stuff. I was about to smush my face full of candy when that bully Finn saw me and his face had a big smirk on it. He got up from his seat at the next table over and grabbed the candy away, using his powers to turn it into crawly bugs and worms. Disgusting! I yelled, "HEYYY, MY CANDY!" He laughed, looking around at his friends, and then he pointed to his t-shirt that read "Evil Geniuses Don't Cry." Everyone was laughing. I had to get out of there before he decided to stick me in the trash bin again.
I hid in an empty classroom and thought of a plan. What was the word for that called? I have to try and remember all the words from my Villain Vocabulary List. Plotted, that's right. So I sat there and I plotted. I was going to leave Darkley's Boarding School for Bad Boys and never come back, AND I was going to get more candy. Everyone knows the first rule of any mission is to dress really scary, so I picked the lock on the teacher's closet and found an extra cape and a black helmet to wear. There were also some stuff the teachers took away from us, like a rubber band, rubber snakes, and a soccer ball. Rubber snakes! That was it! They looked just like Serpentine. HISS!

This is a description taken from http://club.lego.com/en-US/Default.aspx. Do not modify it. (visit this item's product page)
---
The best candy store is in Jamanakai Village, so of course I snagged a wheelbarrow and loaded it up. I got lollipops, gooey taffy, sugar straws, EVERYTHING! I threw the snakes at the villagers watching me. People hid and were scared. This is great, I thought, I'm going to have all the candy in Jamanakai and get a SUGARRRR HIGH! What would Finn think now, huh? Then those stupid Ninja had to show up, saying the snakes were fakes. They yelled at me for stealing. Before I knew it, people were throwing rotten vegetables at me, and those Ninja tied me up to a sign. This was just like Finn all over again. I felt a single tear fall on my cheek, but then I thought that Finn might be right about one thing – evil geniuses don't cry! I am Lloyd Garmadon, son of Lord Garmadon and future ruler of the world!
I wandered through the Glacier Barrens to hide/plot. I was going to let those Ninjas see who they were dealing with. My luck turned around when I found this hatch that said Hypnobrai Serpentine on it with pictures of a snake using mind control. I was shocked…this looked like the real thing. I thought it was only a myth! I opened the door, and BOOM, fell down the hole. It looked like a snowy trap, and I could see millions of myself reflected in the ice. Just as I was thinking that I looked pretty scary, I saw a stranger – except he was just a frozen warrior dude, all bones. I started to shake. I wondered what happened down here... I'd rather be tied up by the Ninjas than end up frozen like him. All of a sudden I heard a rattling, and a bunch of TALKING SNAKES came out of nowhere! The leader tried to do a swirly thing with his eyes to control my mind, but I used my genius skills to move out of the way and deflect his stare, which bounced back at him. He was under mind control! I could make him and his army do anything I wanted! MUHAHAHA!
Notes
In Episode 18: Child's Play, Lloyd uses a special tea to defeat the Grundal, turn the ninja back to normal, but it also turns Lloyd older. He now has longer hair, and normal legs as seen in Epic Dragon Battle.
In the episode 15 season 2, Lloyd uses Spinjitzu and an a new power that like an energy storm, which knocks over the mast of the Black Bounty (resurrected form of the Destiny's Bounty)
He has two weapons similar to Jay. In the show (although it is Zane's dream), he holds The Nunchucks of Lightning. This is probably due to the fact that his dominant element is Lightning.
Strangely enough, there is a green 5 on his shirt.
He is one of the few characters to have a theme song, the others being Ed Walker and Edna Walker, and Kruncha and Nuckal.
Apparently he has a grandmother who sends him candy. (Mentioned in part one of his blog.)
Lloyd mentioned in his blog that there was a bully named Finn who tormented him. Finn has also been mentioned to have powers when Lloyd stated "grabbed the candy away, using his powers to turn it into crawly bugs and worms".
Lloyd ZX is the only ninja to have his armor in the titanium metallic color.
According to his card included with his booster pack, Lloyd's dominant element is lightning but according to his ZX spinner, his dominant element is earth. However, this is temporary, for the picture itself is an edited version of Cole ZX's.
Description from LEGO.com

This is a description taken from LEGO.com. Do not modify it. (visit this item's product page)
---
Sugar-high, sinister, spirited.
As the only son of Lord Garmadon and future dark ruler, Lloyd has some big shoes to fill. It's not easy being bad, and he works tirelessly to become the super villain he is destined to be.
Lloyd ran away from the Boarding School for Bad Boys (Or maybe he was, in fact, kicked out because lacked the morale and ambition to become the next great villain master mind of tomorrow?), and he searches high and especially low for henchmen who will help him live up to his reputation and his dad's expectations. But sometimes even the toughest bad guy's only option is to retreeeeaaaat!
Gallery of Variants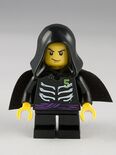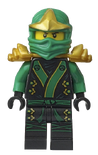 Lloyd Garmadon
Lloyd ZX
Lloyd ZX (Character Book)
Appearances
TV Appearances
Ninjago: Masters of Spinjitzu

Season 2

Rise of the Snakes
Home
Snakebit
Never Trust a Snake
Can of Worms
The Snake King
Tick Tock (recap)
Ounce Bitten, Twice Shy (recap)
The Royal Blacksmiths
The Green Ninja
All of Nothing
Rise of the Great Devourer
Day of the Great Devourer

Season 3

Darkness Shall Rise
Pirates vs. Ninja
Double Trouble
Ninjaball Run
Gallery