Too many red bricks!
This article has an excess of red links in it.
Attention is requested to create new articles from these links. Please remove this message when finished.
Minifigure Badges are badges based on the Collectable Minifigures Series 1. They were exclusively available in LEGOLAND Windsor kids meals during the 2010 season. There are twelve standard badges, as well as two rarer ones.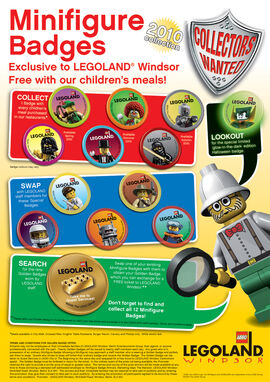 How to obtain
Six badges are available with every kids meal purchased. The Caveman and Forestman were available from Spring; Clown and Magician in Summer and the Zombie and Ninja from Autumn. The kids meals with these in are sold in City Walk, Crossed Ribs, Knights' Table Rotisserie, Burger Ranch, Pitstop and Carvery.
Others where classified as "Special Badges" and were available to swap for with Staff members. These were the Spaceman, Nurse, Robot, Cowboy and the Diver.
Some staff wear the Golden Badge. If swapped for one of the other badges, this can be exchanged for a free entrance into the park. Twenty are given to staff members each day.
Also available at Halloween will be a Glow-in-the-Dark Vampire badge.
It is currently unknown what the Cheerleader, Crash Test Dummy, Indian, Skater or Wrestler badges are for.
Badges
Community content is available under
CC-BY-SA
unless otherwise noted.