This article is about the Minifigure theme. For the physical LEGO figure, see Minifigure.

Minifigures also known as Collectible Minifigures is a theme introduced in May 2010. Each series consists of polybags which used to contain 1 of 16 unique and exclusive minifigures but as of 2021 contain 1 of 12 minfigures. A new series is released every 3-4 months, with new unique and exclusive minifigures in each series. (Series with more or less than 16 minifigures are outlined in the table below).
The minifigures may be based on movies, sports, fiction, events, history, interesting jobs, or just average "a-day-in-the-life" professions. Each minifigure contains new elements in the form of accessories or uniquely printed body parts. Thirteen regular series, and three special series, have been released to date. In addition to regular series, five sets based on the theme exist, 850458 VIP Top 5 Boxed Minifigures, 850449 Minifigure Beach Accessory Pack, 850791 LEGO Minifigure Birthday Set, 850486 Rock Band, 850487 Halloween Accessory Set, and possibly more to come. There have also been some other sets released that were affiliated with the theme. Most of the sets contain redesigned minifigures that have been already produced but some of them are completely new, different and exclusive.
It had an MMORPG named LEGO Minifigures Online, but it was shut down in 2016.
Description
The Collectible Minifigures, or Minifigures theme was introduced in May 2010. The first sneak peek of the theme was in the April 2010 LEGO Club Magazine, which included a poster of the minifigures. Each series, except the 8909 Team GB Minifigures and 71001 Minifigures Series 10, contains sixteen minifigures drawn from a wide range of different settings: movies, sports, history, everyday life and almost any other source imaginable. They are intended to be collected and traded, and designed so interesting new minifigures could be acquired without purchasing an entire new set.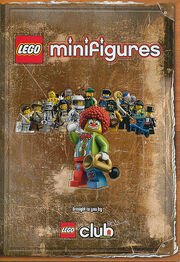 Every minifigure features high detail including special, often purpose-made, accessories and a black display base, with the exception of 8909 Team GB Minifigures, which has a white display case. The theme features new accessories such as maracas, microphones, skirts, guitars, and other new elements such as hair styles, hats, and helmets. Series 1 and 2 include some spare accessories, but subsequent releases cancelled this practice. Many of these elements have not been produced in any subsequent sets.
The minifigures are sold in individual opaque polybags, meant to prevent buyers from identifying the contents. One way you can attempt to get a minifigure and knowing what is inside is by feeling the packaging. In the boxes, there are common (5 per box), uncommon (4 per box) and rare (3 per box) minifigures. However, barcodes on the backs of the polybags of Series 1 and 2 can be used to identify the respective minifigure, and in response, Series 3, 4, 5, 6, and 7, 8909 Team GB Minifigures and 8 use a "bump code" along the bottom of a package instead. These bump codes are designed to be much more difficult to distinguish. Each polybag contains 5-11 elements including a minifigure, accessories, a display base, and an instruction/checklist booklet. Each series is only available for a limited time, which is usually three to four months before the next series is released and will be able to replace its predecessor.
Series Timeline
Notes
The 8683 Minifigures Series 1 and 8684 Minifigures Series 2 polybags' content could be differentiated via imprinted barcodes on the back. This is used by applications such as Mini Collector for iPhone.
There was also a special Olympics series for London 2012. It only featured nine figures and all of them have a special stand.
The plastic used for Collectable Minifigures (Series 1-2) is different than the plastic used in other sets. Instead of ABS plastic, it is a cheaper plastic imported from China. As a result, the parts can be difficult to separate or move, such as the hands and the head which become loose quickly.
Some minifigures are very similar to other or older minifigures from other themes, such as the Ninja (similar to Bonsai) or the Cowboy (similar to the minifigures from the Western theme).
In July 2011, an e-mail was sent to V.I.P. members telling them to vote for their favourite minifigure from Series 1-3. The top 5 picked were announced in January 2012, and were revealed to be the Elf, the Fisherman, The Space Villain, the Gorilla Suit Guy, and the Mummy. A set was created featuring the chosen 5 in it, it was released in 2012, available only for V.I.P. members. However, due to the lack of the Spartan, most likely the all-time most popular figure along with the Elf, it is likely that the minifigures included were decided based on quantity of left-over figures.
Series 7 has various throwbacks and references to other characters or sets. (The Elf says that he can track down Trolls, Evil Knight lists villains, saying he's worked for them, Galaxy Patrol says that he can withstand the Alien Clinger mind control, Hippie has a quote from a T-shirt on a previous set, and Swimming Champion says that Ocean King is her biggest fan).
There is a possibility that some of the minifigures are previews of future themes for example: Ninja for Ninjago, Elf for The Lord of the Rings, Galaxy Patrol for Galaxy Squad, Policeman for City and Dinosaur suit man for Dino.
Some minifigures are used as minor/background characters in the Ninjago: Masters of Spinjitzu TV series, such as the Circus Clown, Sea Captain, and Motorcycle Mechanic.
An animal as a Minifigure's accessory was first used in Series 2 (Vampire's bat). From then polybags contained moulds of a fish (Fisherman and Ice Fisherman), a chimpanzee (Zoo Keeper and Jungle Boy), a snake (Egyptian Queen), a starfish (Mermaid), a seagull (Sea Captain), a chihuahua (Trendsetter), a cat (Grandma, Mrs. Scratchen-Post, and Halloween Witch), a clam (Marsha Queen of the Mermaids), a frog (Fairytale Princess), a cobra (Snake Charmer), a penguin (Wildlife Photographer), a spider (Spooky Boy), and a dog (Dog Show Winner).
Some minifigures (Bandito, Traffic Enforcer and Trucker) were rumored to be in a series but were not minifigures for 71001 Minifigures Series 10, 71002 Minifigures Series 11, 71004 The LEGO Movie Series, or 71005 The Simpsons Series. They could be minifigures for future series. And also a Prospector from The LEGO Movie and a black and purple Jester in LEGO Minifigures MMO are confirmed to appear in 71007 Minifigures Series 12, but it is unknown if they will be based on the appearance from the movie and video game or not.
40373 Fairground Accessory Set is listed under the Minifigures theme on LEGO.com despite appearing more as a Miscellaneous set.
Additional printing, such as back, sides of legs, arm printing, reversible heads, and so on, was not present in the first series, but has gradually become more common as the series progressed. The Team GB Series is the only series so far to have additional printing on every minifigure, as well as being the only series with white display bases with the Olympics' logo, the words "Team GB", and the Great Britain's team's logo. The minifigures that have this exceptional printing are:
Series 1:
Series 2:
Series 3:
Series 4:
Series 5:
Series 6:
Series 7:
Series 8
Series 9
Series 10
Series 11
Series 12:
Series 13
Series 14
Series 15
Series 16
Series 17
Series 18
Team GB Series:
DFB Series:
The LEGO Movie
The LEGO Movie 2
The LEGO Batman Movie
The LEGO Batman Movie Series 2
The LEGO Ninjago Movie
The Simpsons
The Simpsons Series 2
Disney
Disney Series 2
Harry Potter
Character Encyclopedia
Other sets that include Collectable Minifigures
Online games
Series 1:
Series 2:
Series 3:
Series 4:
Fish Catcher (Includes minifigures from both Series 3 and 4)
Series 5:
Series 7:
Series 8:
Series 10:
Main Series Minifigures
Sports Minifigures
LEGO Movies Minifigures
The Simpsons Minifigures
Disney Minifigures
Harry Potter Minifigures
Other Minifigures
Gallery
Box Stands
Sub-Series
Grid line-up
Sub-Series
CGI
Sub-Series
Bag
Sub-Series
Other
Promotion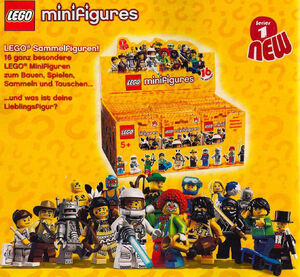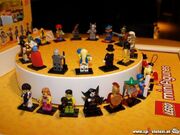 Picture from German 2010 consumer catalog.

Translation:
LEGO collectable figures!
16 very special LEGO Minifigures for building, playing, collecting and trading...
...and what is your favorite figure?

See Also
Sources
External Links