Muji is a theme introduced in 2009 that combines both traditional LEGO bricks and paper. The theme is based upon a partnership between LEGO and the Japanese Muji company. The sets are only sold in Japan.
Description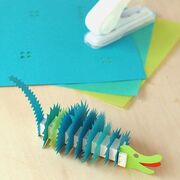 Muji is a line of LEGO products that combine utilize both traditional System bricks and paper to create various models. Its first test was launched in Japan on November 26, 2009, and was made available to consumers across the world in November 2011. The theme is based around connecting paper together with LEGO bricks, through the use of the unique Muji hole puncher, which creates stud-sized holes.
The various sets in the theme are all focused around different subjects, which vary from Animals to Christmas.
Official descriptions

This is a description taken from BZPower. Do not modify it.
---
Description from BZPower:
MUJI is a Japanese retail company distinguished by its no-frills design minimalism, streamlining of processes, simplification of packaging and no-logo policy. Initially a subsidiary of the Seiyu Ltd, supermarket chain, MUJI became a separate brand in 1989.
Starting as Mujirushi (no brand) Ryohin (quality goods), the MUJI product range was developed to offer high quality, low cost, generic products. There are currently more than 7,000 products in the MUJI range, which is sold through its 181 brand retail stores and additional 147 outlets across the world.

This is a description taken from BZPower. Do not modify it.
---
Paal Smith-Meyer, Senior Director, New Business Group, The LEGO Group, on Muji:
The LEGO system offers endless creative possibilities to build structurally, and so does paper with its many colors, patterns and textures suitable for folding, drawing and cutting. Combining these two creative tools with a LEGO system paper puncher, we will open up a new creative dimension for kids and their parents to explore and express themselves through.

This is a description taken from BZPower. Do not modify it.
---
Takahashi Okutani, Manager. Overseas Merchandising Department, MUJI Japan, on LEGO Muji:
LEGO bricks are not just a toy, but a system that inspires children's creativity. MUJI also seeks to inspire creativity with products that appeal to a simple and reflective lifestyle. As both brands are based on strong values, we have worked together to create a new concept that can be of great value to children.
Sets
Gallery
External Links