watch 03:19
Wiki Targeted (Games)
Play Sound

The Mummy is a LEGO Games microfigure released in 2009 for 3843 Ramses Pyramid.
Description
The Mummy is mostly white, with eyes and some flesh visible through a gap in its cloth. The front of its body is covered in strips of cloth, with many gaps where flesh shows though, as though the strips are coming off. The back and sides are completely plain. The mummy occupies just one stud, rather than the normal minifigure's two. This is to make it easier to design a game around; 1 x 2 minifigures would mean the board has to be bigger, pieces to mount the minifigure (such as Part 87580) would no longer function, and a 2 x 1 minifigure would be a harder shape to turn round corners, and would fit together less easily. A normal minifigure is also a bit too tall.
Background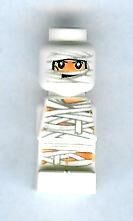 In the kingdom of Ancient Egypt, it was custom to mummify rich people after their death. The corpse's internal organs would be removed and the mummy wrapped from head to toe in strips of cloth. Mummies have been used throughout modern culture, in horror, because of the scariness of dead people moving. Mummies are consistently seen, similarly to zombies, patrolling dark corridors. A common feature of the horror mummy is that the strip of cloth is slowly winding off. This depiction of a mummy is used in this set.
Role in the Game
In 3843 Ramses Pyramid, the eight mummy microfigures all start at the top of the temple. During the course of the game they work their way down, and start causing a threat to the explorers. When a mummy enters the same level and side of the pyramid as an explorer, the explorer gets knocked off the pyramid and has to start again from the entrance.
Appearances
Gallery of Variants
See Also
Community content is available under
CC-BY-SA
unless otherwise noted.