Neville Longbottom was a student at Hogwarts in Harry Potter's year.
Description
In LEGO Harry Potter: Years 1-4, Neville has the same face, cape, and hair-piece as his original variation. However, instead of using his 2004 robes, he has 2001 robes recoloured dark-grey. His special abilities are Trevor and a spade.
In LEGO Harry Potter: Years 5-7, Nevile has his 2011 redesigned appearance.
Notes
In 4867 Hogwarts he has a double-sided face, one side is a normal expression, but an angry face at the back.
His 2011 variant has the same hair as Mutt Williams'.
Appearances
Video Game Appearance
Gallery of Variations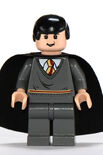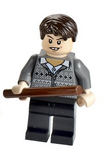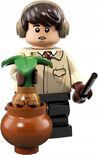 Original mini-figure version of Neville
2011 redesigned Neville
Earmuffs
Gallery
See Also
External Links