This disambiguation page lists articles associated with the same title.
If an internal link led you here, you may wish to change the link to point directly to the intended article.
Norik is a BIONICLE character. He is the leader of the Toa Hagah, and was created to be a part of that team by the Brotherhood of Makuta millennia ago. They later rebelled against the Brotherhood, but at a price: Roodaka mutated them into Rahaga. Norik and his team lived as Rahaga for millions of years, before Lewa forced Roodaka to turn them back into Toa Hagah again. Norik is now living on Spherus Magna. He is a Toa of Fire.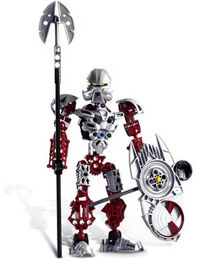 Norik has been released multiple times, and so may be referring to:
External Links
Community content is available under
CC-BY-SA
unless otherwise noted.