"If we do this, we do this my way."
―Owen in Jurassic World
Owen Grady is a Jurassic World minifigure to be released in 2015, based on the character portrayed by Chris Pratt.
Description
The minifigure's face and medium nougat hairpiece is the same of Star-Lord's. It features stubble facial hair printing with a smirk expression. The torso has a blue-ish shirt print with a reddish brown vest print over it. His legs are printed with jeans with pack for his favorite knife on the right side.
LEGO.com Description

This is a description taken from LEGO.com. Do not modify it. (visit this item's product page)
---
Owen works at a behavioral facility on the outskirts of the island, where he trains and studies one very special Raptor pack. Rebelling against the system isn't easy when you're also working for it to fund your dinosaur research, but he still does his best. When chaos breaks loose, it's up to Owen to try to save Jurassic World…before it's too late!
Background
Twenty-two years after the events of Jurassic Park, Isla Nublar, off Costa Rica's Pacific coast, now features a fully functioning dinosaur theme park, Jurassic World, as originally envisioned by John Hammond. Owen is the dinosaur researcher of Jurassic World. He conducts behavioral research on Velociraptors.
Gallery of Variants
Minifigure Variants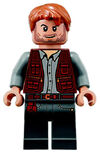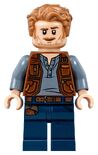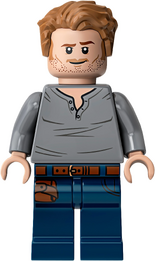 Jurassic World
Fallen Kingdom
Gyrosphere Escape
With jacket and bag
Without jacket
DUPLO
2020 Redesign
Video Game Variants
Notes
This mini figure is the third time Chris Pratt is involved in a LEGO theme; the first being Emmet and the second being Star-Lord. It is also the second time he has had a LEGO minifigure that was based on one of his live-action movie characters. The first one was Star-Lord.
He has the exact same face and hairpiece as Star-Lord, because they're both played by Pratt.
His idle animation in LEGO Dimensions would be used for the idle animation for Captain America when holding his shield in LEGO Marvel's Avengers.
Appearances
Other Physical Appearances
Video Game Appearances
Gallery
Community content is available under
CC-BY-SA
unless otherwise noted.