Brickipedia is currently undergoing a change with the naming of part articles and this article's name may be outdated.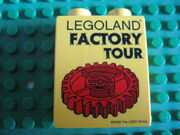 Part 4066pb314 is obtainable only by those who have done a tour of the LEGO Factory at LEGOLAND Germany or California. The Brick is 2 by 4 and features the LEGO Factory design on the obverse.
On the German version the word Fabrik is used instead of Factory.