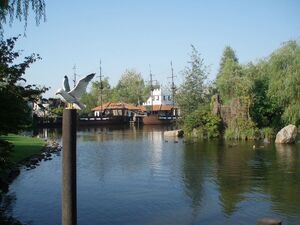 Pirate Land is an area of LEGOLAND Billund.
Official Description
A world of fun and adventures for brave children and families. Pirate Land is a paradise for anyone who dreams of being a pirate. Here is everything that a blood-red pirate heart could dream of: desert islands, hidden treasure, real live pirates, amazing sea battles and proud ships. Pirate Land offers endless fun and adventures for families and children of all ages. Pirate Lagoon – spectacular outdoor water fun Pirate Lagoon is a spectacular outdoor water playground where kids and their families have played pirates to their heart's content every since this popular attraction opened.
Pirate Splash Battle In Pirate Lagoon, families sail on the Pirate Splash Battle expedition, and fight gigantic sea battles with passing pirate ships. So be ready at the water cannons – only really cool pirates don't get wet!
Remember swimwear for Pirate Water Falls From 20 May to 28 August, families can frolic in Pirate Water Falls, the fantastic water playground that offers fun and awesome activities for kids of all ages. In the meantime, little kids can enjoy playing at Pirate Mini Water Falls.
Pirate Wave Breaker Go on a pirate expedition with the Pirate Wave Breaker – if you dare!. Pirate Wave Breaker is a blood-red, wave pounding pirate ship that makes even seasoned pirates scream with laughter.
The Lighthouse, Pirate Carrousel, Pirate Boats and Pirate Games The Pirate Carrousel takes you for a spin in the big pirate tubs. In The Lighthouse, you hoist yourself into the tall tower and meet the LEGO® lighthouse keeper. If you are both skilled and lucky, you can win great prizes at Pirate Games. And then you can take a trip to Captain Roger's secret cave in the Pirate Boats.
Captain Roger (Captain Redbeard) and his horde of fierce pirates rule in Pirate Land. They are always ready for a quick sword fight with brave kids, and look forward to sailing with you to the secret cave.
The pirates have come to LEGOLAND … to stay!
Things to do in Pirate Land:
Community content is available under
CC-BY-SA
unless otherwise noted.