This minifigure has only appeared in television episode(s)
Although this article is about an official minifigure, it never existed in physical form, or appeared in any official LEGO sets.

The Raven Legend Beast is an animal that appears in Legends of Chima: The Animated Series.
Background
The Raven Legend Beast is one of the few animals that did not drink the CHI from Mount Cavora and evolve into an anthropomorphic being. It appears at the end of A Tangled Web with green eyes showing that the scorpions are controlling it to steal golden chi for it as shown in the next episode. In The Legend Thief it stole golden chi from Lavertus so the dark tribes can build a statue and fortresses. Razar frees the Legend Beast by throwing gold paint at the scorpions so it'll carry them and throw them in a pile. It does the same to the golden armored Scorm. He tries to sting the beast to control it again, but it fails. Razar says it's because their mind control venom isn't as powerful as a Raven's greed.
TV Appearances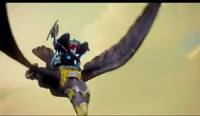 Community content is available under
CC-BY-SA
unless otherwise noted.