Soupperson1
Country: Ireland     Age Group: early teens   Gender: female


Joined: 28th December 2011  

№ of Reviews: 5  

№ of Featured reviews: 0

Building Experience: Enough
---

This set is sorta "special" to me as it was my first friends set back in January 2012, I accutally got the set two more times since them exept they were both at Christmas, I opened them anyway the more mini-dolls the better.
The set
The set has nothing amazing in it, it includes a deck chair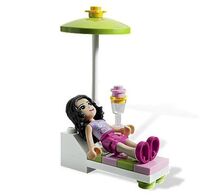 , in some Harry Potter sets we got similar builds. Unlike the Harry Potter beds its lime and light pink. Connected to the deckchair is a lime parasol, with a yellow flower on top(which is used 2 other ways in the set). It includes a plant with a yellow flower on top in a lime pot. The main part of the set is the Splash Pool or Hot tub. It has lime green steps with a white base going up to it. It's rounded and it has blue edges and a pink base with a flat pink brick holding it together.
Build
There's one tiny bag and a booklet, the booklet is folded so it will fit in the small box. The build is juniorized like most of the friends sets well its small so I can't really complain. The set will at most take 10 minutes to build (the struggle I had is to take Emma out of her plastic bags, her head and legs come in two ones that are very hard to open).
Minidoll
The set includes one mini-doll Emma she has long black hair which is braided in the back she has a hole at the top of her head and at the back to place accessories(none included in the set). She's caucasian and is the colour of her arms, hands, legs and head. She has dark green eyes, black eyebrows a smiling face with pink lipstick. She has a lavender shirt with sliver flower and glitter printed on her top. She has a layered magenta skirt with white shoes and magenta laces and at the front. Emma holds a icecream or milkshake which is made up of a trans cup a pink stud and that flower piece. I would've perfaired if Emma wore a swimming costume since she's going into a hot tub rather then everyday clothes. In 2013 we got 3 girls (Andrea, Isabella, Kate) in swimming clothes you can count Maya too if you want since she has a towel and flip flops.
Rating time! :D
| Value: | 5 / 5 |
| --- | --- |
| Mini-Dolls: | 3 / 5 |
| Girliness: | 4 / 5 |
| Pieces: | 2 / 5 |
| Overall: | 3½ / 5 |
I would recommend this, I suggest if you have a sister and you need to get her a gift and she likes friends she be happy with this or your a general friends fan.
Community content is available under
CC-BY-SA
unless otherwise noted.