CHI Battles (1 Review)
Item number
70113
Number of pieces
92
Minifigures
Longtooth
Wakz
Price
$19.99
€19.99
£14.99
$22.99
Additional prices: $39.99
Ages
6-12
Released
2013
Theme
Legends of Chima
Shop@Home Description:
Blast into the jungle to compete in a collection of daring events for the CHI!

Attach Longtooth and Wakz onto the Speedorz, then pull the rip cord to speed up the ramps and knock down the CHI. Next, be the first to hit the spinning target. Win by knocking down the most fang cones! Attach the power-upz for an even more intense contest! Includes 2 minifigures, 4 weapons, 2 Speedorz, 2 rip cords, 2 power-upz, 2 ramps, 4 fang cones, 12 CHI and 10 game cards. Put your skills of accuracy and timing to the test with this game for 1 or more players!

Includes Longtooth and Wakz minifigures with 4 weapons
Features tree with detachable spinning top, 2 ramps, 4 fang cones,lion and wolf Speedorz, 2 rip cords, 2 power-upz, 12 CHI and 10 game cards
Weapons include 2 CHI weapons and 2 secondary weapons
Hit the tree and grab the CHI orb!
Ram the spinning top!
Knock over the fang cones!
Pull the rip cord and unleash the Speedor!
Attach the power-upz for even more intensity!
Compete with your friends in an action-packed game of skill!
Collect the entire LEGO® Chima Speedorz series to create combo games!

Minifigure Gallery:

View more information...
Reviews

ToaMeiko
Country: United States     Age Group: TFOL   Gender: Male


Joined: December 18, 2012  

№ of Reviews: 5  
№ of Featured reviews: 1


Building Experience: Expert
---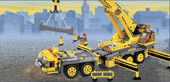 Review in Progress!
This review is not yet finished and is being expanded by its writer, ToaMeiko, and may undergo critical changes while this message remains in place.
If this template has been on the page for over one week, it may be removed.
Hi, today I'm reviewing 70113 CHI Battles. I received this set free for participating in the LEGO Legends of Chima Speedorz Challenge activity at BrickFair Virginia 2013.
Users who own this set
Community content is available under
CC-BY-SA
unless otherwise noted.