I knew this set was going to be great before I opened up the box. It may only feature two mini figures but it doesn't disappoint whatsoever. I missed the 7676 Republic Gunship from 2008 so saw this as a great way to get Plo Koon. The torso detail is basic but fits the part well and the head piece is a really nice mould however after a while it begins to lose some detail on it. R7-D4 is the other mini figure and don't let the brown and white mix fool you, it actually ends up looking all right. He doesn't seem to much different from any other droid really except for the colours so don't expect to much from him.
The build of the set is basic if you've built the other Jedi Starfighters but still it has its own unique features in there and is a good short build for a LEGO building pro or an armature.
Once you finish the build you have yourself a nice little ship with an accurate colour scheme that looks great when compared to the one seen on TV. The feature is the launching of Plo Koon which is similar to what was done before with R2-D2 except this one works much better and if you do it well enough it works out all right. Younger kids will enjoy swooshing it around and about but for the older fans it looks great as a display piece too.
Overall it is a nice set an if you have the money lying around then I suggest you pick it up while you can because it won't be long before its off shelves. It is worth the money in my opinion but there are other sets for the same price which may represent a greater value. If your a fan of Plo Koon then you may want this set to add to your collection and combined with 7964 Republic Frigate you could even begin to build you own Wolfe Pack! So this set comes recommended by me and I hope my review is helpful in your decision to buy this set or not.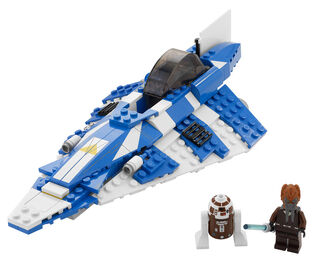 | | |
| --- | --- |
| Appearance: | 5 / 5 |
| Playability: | 3 / 5 |
| Value for money: | 4 / 5 |
| Overall: | 5 / 5 |
User Review
Community content is available under
CC-BY-SA
unless otherwise noted.