Hippie (0 Reviews)
Theme
Minifigures (Theme)
Shop@Home Description:
"Make LEGO® models, not war!"


The friendly, good-natured Hippie loves everything in the entire world. Rain and shine, day and night, puppies and kittens – they all bring a happy smile to his face. With a fashion sense that hasn't changed since the Sixties, he never stays in the same place for long, preferring to roam across city and countryside alike, stopping only to smell the flowers and spread his simple message of peace, love and LEGO bricks.

As a pioneer of the Free-Building movement, the Hippie rejects all building instructions. Instead, he believes that true creativity lies in making a big pile of your bricks and putting them together in whatever way most inspires your imagination. According to him, it's the ultimate groovy way to reveal your true inner soul as a builder!

View more information...
Reviews

Klagoer
Country: U.S.A.     Age Group: Teenage Fan of LEGO   Gender: Male


Joined: March 30, 2011  

№ of Reviews: 22  
№ of Featured reviews: 1


Building Experience: Expert
---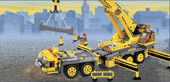 Review in Progress!
This review is not yet finished and is being expanded by its writer, Mr. Minifigure, and may undergo critical changes while this message remains in place.
If this template has been on the page for over one week, it may be removed.
Hip, Hip, Hippie!
Hippie
So recently I purchased the Hippie online from EBay. I love the Hippie because of his new parts and other reasons.
Community content is available under
CC-BY-SA
unless otherwise noted.