LEGO Star Wars III: The Clone Wars (2 Reviews)
Item number
see Versions
Price
see Versions
Theme
Star Wars:
    The Clone Wars
Shop@Home Description:
The LEGO® Star Wars™ franchise is back!


LEGO® Star Wars™ III: The Clone Wars™ combines the epic stories and iconic characters from the Star Wars universe and animated TV series Star Wars: The Clone Wars with all new gameplay features. Use new game mechanics to create, control and explore in a galaxy far, far away. Promising breathtaking visuals as well as new characters and levels, the game also features humor from the LEGO world. With over 20 story-based missions and 40 bonus levels spanning the entire Clone Wars era, LEGO Star Wars III: The Clone Wars will allow fans to explore endlessly and laugh their way through the Star Wars galaxy in the most accessible and action-packed LEGO game to date.

Take control of battalions of clone troopers against the relentless droid army - building bases, deploying vehicles and calling in reinforcements to defeat opponents!
Take control of multiple teams in separate locations to complete various objectives!
Fight against massive bosses as seen in The Clone Wars animated series, including Gor, the epic Zillo Beast and many other favorites!
Navigate and fly through multi-layered combat throughout the galaxy!
Explore exotic locations in a variety of ships throughout 16 different star systems! Play as villainous Separatists, Republic heroes or even as bounty hunters.
Use the Force in all new ways to control LEGO objects, solve puzzles, access new areas, pick up and throw enemies - even turning them into weapons!
Use new clone weapons including rapid fire guns and rocket launchers! Navigate through the galaxy in new vehicles such as the Republic gunship, Clone Turbo Tank and even Anakin's Jedi Intercepter and the Twilight!
Improved dynamic split screen for multi-player co-op with jump in/jump out abilities for friends and families to play together.

View more information...
Reviews

CzechMate
Country: Australia  
  

Joined: 31 July, 2011  

№ of Reviews: 34  

№ of Featured reviews: 1

Building Experience: Expert
---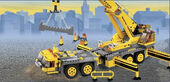 Review in Progress!
This review is not yet finished and is being expanded by its writer, CzechMate, and may undergo critical changes while this message remains in place.
If this template has been on the page for over one week, it may be removed.
LEGO Star Wars III: The Clone Wars is a great way of stepping into the LEGO Star Wars galaxy yet again. New Characters, New features, New gameplay. It all starts with the new-look. The ability to play on the Wii with such a game is EXCELLENT. The new characters like Plo Koon, Adi Gallia and more clones is great fun. I love how you can never know what to expect in LEGO.
Buying
I had already pre-ordered it, and got it for $69,99, which is a good price for the video game.
The New Battles
FINALLY! What all Star Wars fans want! A new way to DESTROY! The battle features are really fun! The more characters you have, The more exciting it gets. As you get better, the more of a strategic planner you are. I found myself underfire from my friend, Who was taking my army of clones out. But, Counter-attack ability is great. Money increases your game.
Characters
YES!! New CHARACTERS! New people like Nahdar Vebb and an all-new General Grievous is great. Never before has a Star Wars game been so hard to pick a favourite character. More things to do aswell. More abillity too! Like new grapple, aim, Jedi Powa!
TO THE SKY!
OH YEAH! New way to battle above the Skies. Flying wherever you like is an excellent feature! I love how you can never guess what to do. Some can be hard, others easy as cake. Plus an all-new ship layout. Excellent. I can't say highly enough of the game.
OVERALL
I recommend to anyone. Even if you don't like Star Wars. It's THAT good. Excellent way to cap off the LEGO Star Wars Triloy.
--User:Crazed Penguin/Simple 08:56, November 29, 2011 (UTC)

Sonofhades101
Country: USA     Age Group: TFOL   Gender: Male


Joined: March 12, 2012  

№ of Reviews: 6  

№ of Featured reviews: 0

Building Experience: Expert
---
I loved this game, as I have seen all the movies and enjoyed them a lot. So I was really excited about this game. Anyways, I am going to split this into 3 parts: Minifigures, Levels, and Packaging and Manual.
Minifigures
Ok. The minifigures, are old and really old. They all are awesome though, as they all have light sabers and blasters. Still, most are old and don't have new parts. Anyways, I rate them all about 4/5 cause of the weapons.
Levels
Ok, I wasn't as happy here... I thought most were really cool and all, but they didn't really cover every part of the movies. Still I was happy with the levels. All were amazing. The cool thing about these video games, is the fact that to complete them, you need to play them over and over again. So I rate them a 5/5.
Packaging and Manual
The game came is box (which I collected), which was wrapped in plastic. The manual wasn't really helpful. At all. This is really the end of this section. So 4/5.
| Value for Money: | 5 / 5 |
| --- | --- |
| Instruction Manual/Packaging: | 3 / 5 |
| Playability: | 5 / 5 |
| Overall: | 4 / 5 |
Users who own this set
Community content is available under
CC-BY-SA
unless otherwise noted.