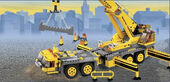 Review in Progress!
This review is not yet finished and is being expanded by its writer, CzechMate, and may undergo critical changes while this message remains in place.
If this template has been on the page for over one week, it may be removed.
LEGO Star Wars III: The Clone Wars is a great way of stepping into the LEGO Star Wars galaxy yet again. New Characters, New features, New gameplay. It all starts with the new-look. The ability to play on the Wii with such a game is EXCELLENT. The new characters like Plo Koon, Adi Gallia and more clones is great fun. I love how you can never know what to expect in LEGO.
Buying
I had already pre-ordered it, and got it for $69,99, which is a good price for the video game.
The New Battles
FINALLY! What all Star Wars fans want! A new way to DESTROY! The battle features are really fun! The more characters you have, The more exciting it gets. As you get better, the more of a strategic planner you are. I found myself underfire from my friend, Who was taking my army of clones out. But, Counter-attack ability is great. Money increases your game.
Characters
YES!! New CHARACTERS! New people like Nahdar Vebb and an all-new General Grievous is great. Never before has a Star Wars game been so hard to pick a favourite character. More things to do aswell. More abillity too! Like new grapple, aim, Jedi Powa!
TO THE SKY!
OH YEAH! New way to battle above the Skies. Flying wherever you like is an excellent feature! I love how you can never guess what to do. Some can be hard, others easy as cake. Plus an all-new ship layout. Excellent. I can't say highly enough of the game.
OVERALL
I recommend to anyone. Even if you don't like Star Wars. It's THAT good. Excellent way to cap off the LEGO Star Wars Triloy.
--User:Crazed Penguin/Simple 08:56, November 29, 2011 (UTC)
Community content is available under
CC-BY-SA
unless otherwise noted.