Rock Rocket is an online game for the Power Miners series.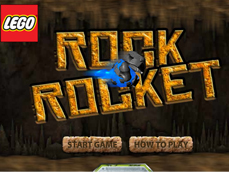 About the Game
Information for Rock Rocket was released on LEGO.com. A trailer for the game is also featured on its LEGO Club page. It was released in January 2009, when the Power Miner sets and Home Page debuted.
Gameplay
The player controls one Rock Monster, and is challenged to eat as many Energy Crystals as possible before they run out of power. Some types of Crystals give more power to the power bar. There are also larger Crystals that award power ups to the specific monster. Players are awarded points for take-offs and landings
Codes
Sulfurix
Boulderax
Dynamite Mode
Trivia
When activating Slow Motion Mode the audio ingame will break resulting in a repeated explosion sound effect
See also
External links
Community content is available under
CC-BY-SA
unless otherwise noted.