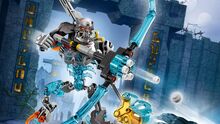 Names
Notes
The Lord of Skull Spiders is the first Skull Creature to be defeated, the only one that doesn't wear a mask and the only one that has minions.
Each Skull Creature comes with an exclusive new mask, except Skull Slicer.
They have exclusive limbs, weapon parts, and armor pieces.
Skull Spiders, Skull Warriors, and Skull Scorpios are the only Skull Creatures that come in hordes.
Although all the Skull Creatures were created by Kulta (who is also a Skull Creature) using his powers, it's unknown how he was created(although he is believed to have been created by Makuta).
Kulta is the only Skull Creature shown to be capable of speaking and the only one with an actual name.
The Lord of Skull Spiders is the only skull creature to be released in a seperate wave than the other skull creatures, excluding the Skull Spiders.
Community content is available under
CC-BY-SA
unless otherwise noted.