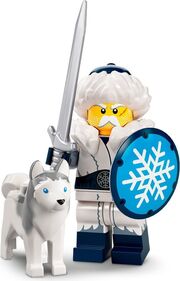 The snow guardian is a minifigure released as part of Minifigures (theme) in 2022.
Description
The Snow Guardian is an elderly man whose outfit is mainly white and earth blue. He has a white coat that covers most of his pants, though some sand blue from them can still be seen. He has plain earth blue boots and hands, and sand blue arms with short, ruffled white sleeves. He has a white and earth blue snow cap, and a double sided face. One expression is serious and concerned, and the other is a slightly happy expression. He carries a silver sword and an earth blue shield with a snowflake pattern on it. With him is his husky dog, who compared to previous Lego huskies, has blue eyes and a different fur pattern.
Notes
• This is the first appearance of the snow cap piece.
• This is the first time a Lego husky has been redesigned.